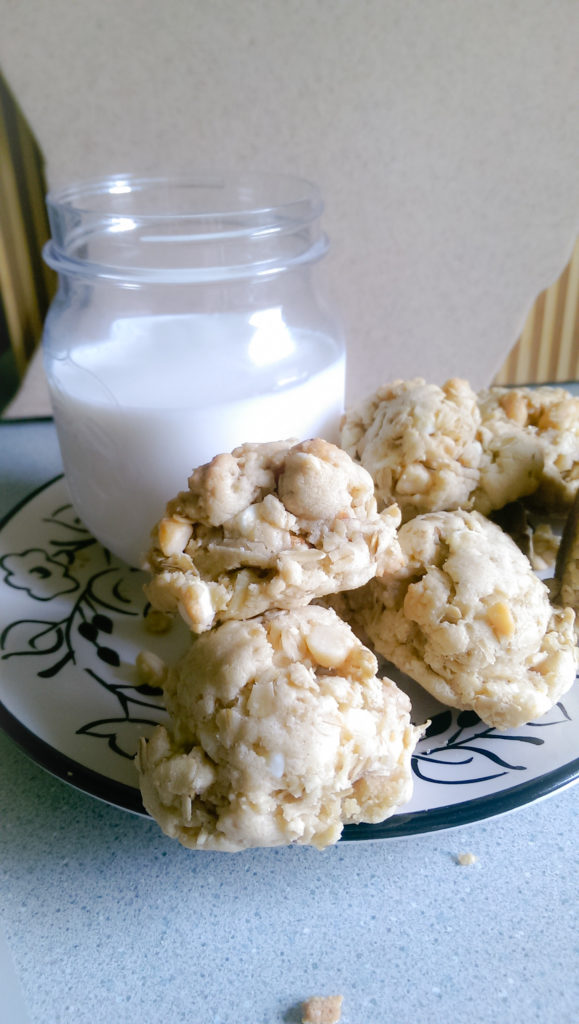 This is one of my husband's favorite cookies. It is a "treat" when I make these as macadamia nuts are a bit on the pricier side of nuts. For almost $6, you can get a whopping 1 ½ cups of nuts. It's worth it, by all means; but it is a far cry from the Snickerdoodle.
I remember when I stumbled upon this recipe like it was yesterday. I was in college, trying to find a "healthy" cookie (I know I know…) and somehow came across this gem. The recipe stated that it is 99 calories per cookie (and that the recipe makes 48 cookies…); which I don't believe applies to when I make cookies because A) I make real-sized cookies and B) these taste simply divine.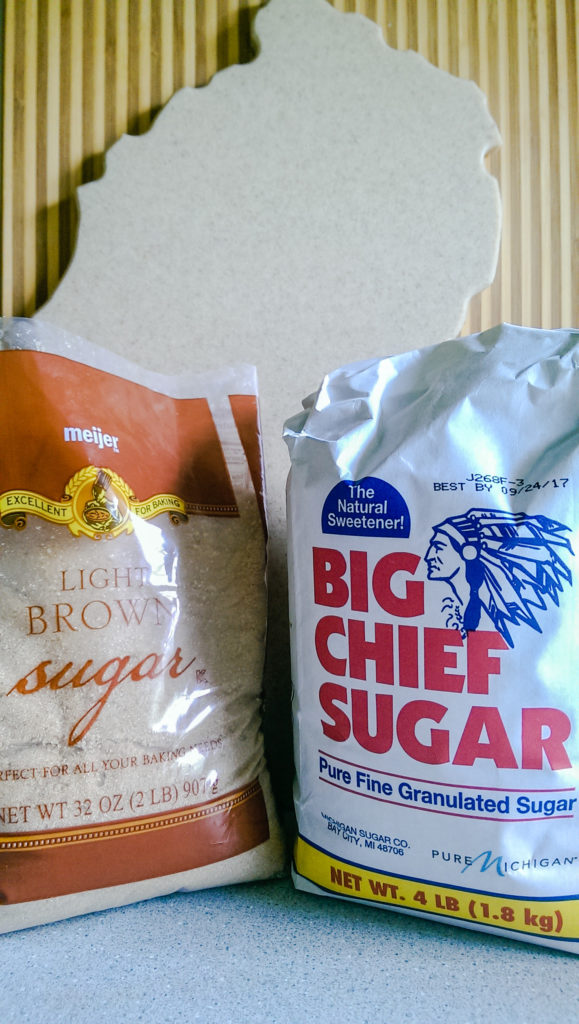 Michigan Ingredient: Big Chief Sugar and Meijer Brown Sugar.
Please keep in mind that I am in the process of getting fresh ingredients for recipes, as fruits and veggies are starting to become more in season. In Michigan, not many fresh ingredients are in season during this time of year BUUUUUUUTTTTTTT….. once more items are in season here, it will be glorious.  
First things first, cream your butter and your sugars. Add the vanilla and the egg. Combine your flour, baking soda, and baking powder together. Add your dry ingredients to the creamed mixture and beat.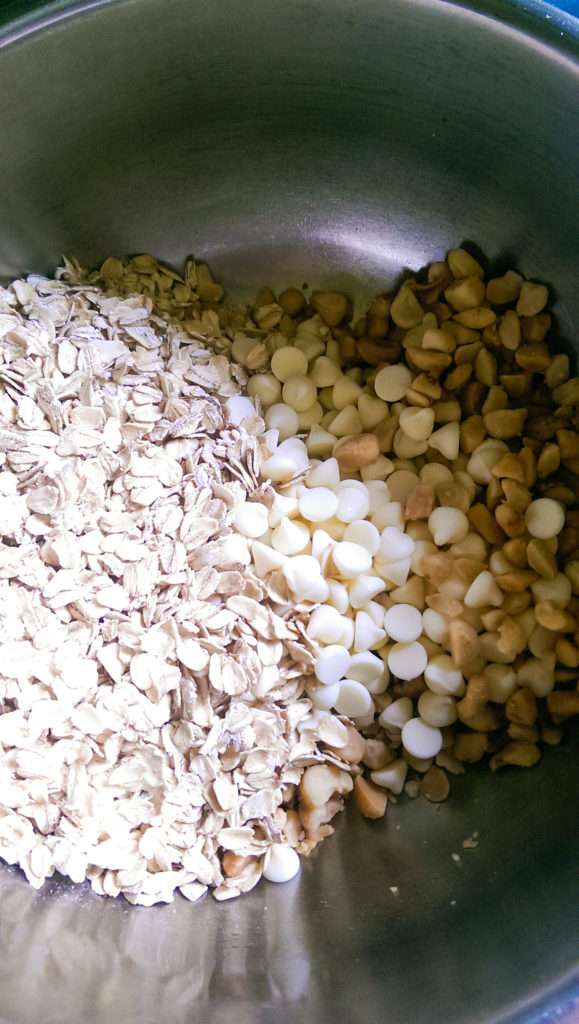 Combine your oats, chips and nuts and add to creamed mixture. Make sure all yummy goodness of nuts, chips and oats are distributed all throughout.  You should now have heaven in a bowl.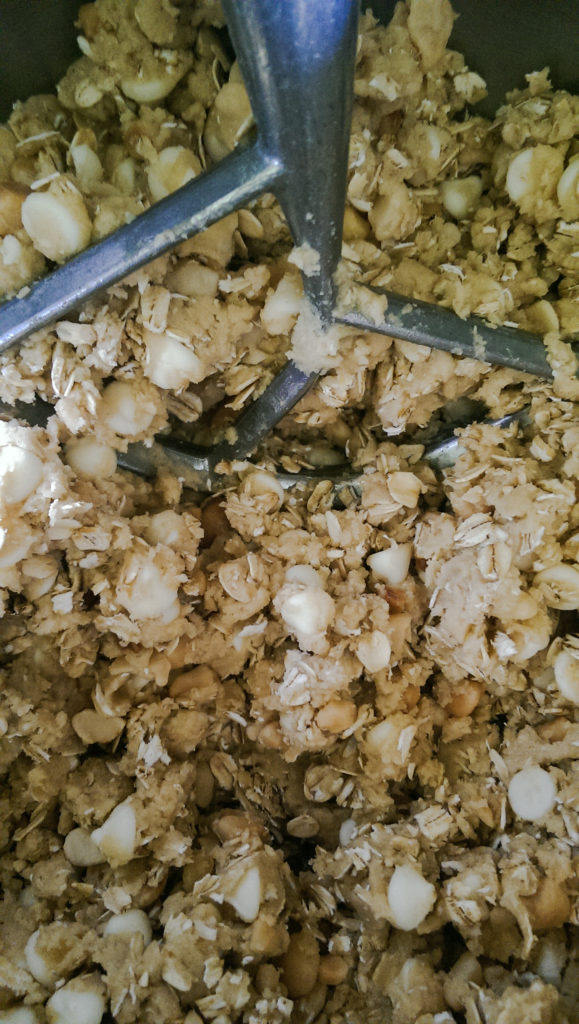 Preheat your oven and start getting your cookies prepped. I actually have one of those cookie scoop thingers (technical term) because I would get annoyed with using the two spoon (or let's be honest, when no one is looking, spoon and finger) method. It works well with some cookies, and sometimes it does not as the dough will coat the inside and the cookies will get smaller and smaller as the scoop gets "clogged." Luckily, with this recipe you shouldn't have a problem; but if you do, my apologies.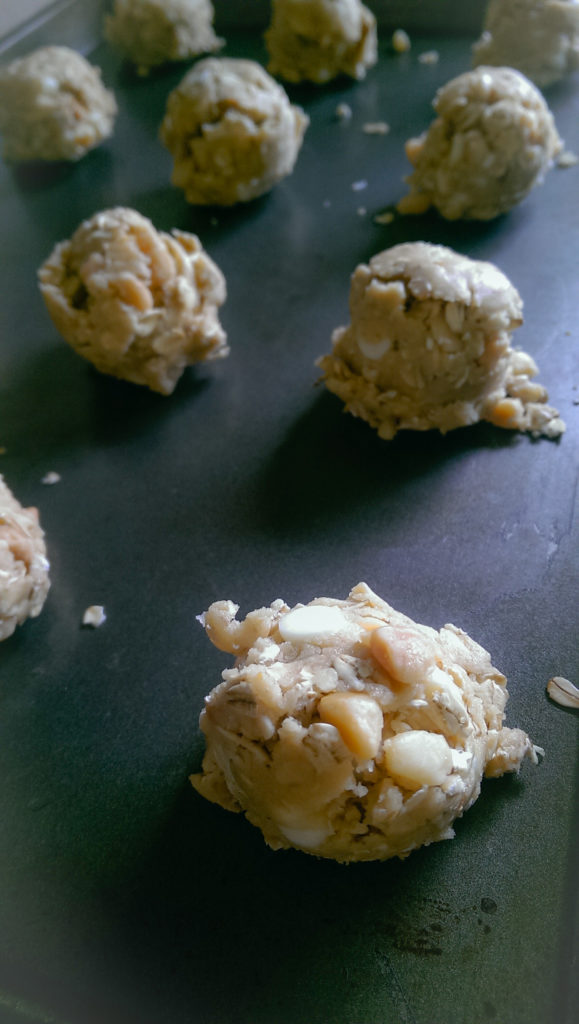 You can tell a lot about someone by the way their cookie sheet looks. If it looks brand spanking new they either just A) bought it, or B) do not really bake a lot…or C) have one of those slip-mat things. Now I'm not saying you should JUDGE someone just by their cookie sheet…. but….. you know… with baking comes love <3
Bake your cookies for 10-12 minutes. Now keep in mind what your oven temperature is like. Mine runs a little hot sometimes, so I always check in 9 minutes to be safe.
This recipe should make roughly 18 medium sized cookies. If you want to make more, simply double the recipe.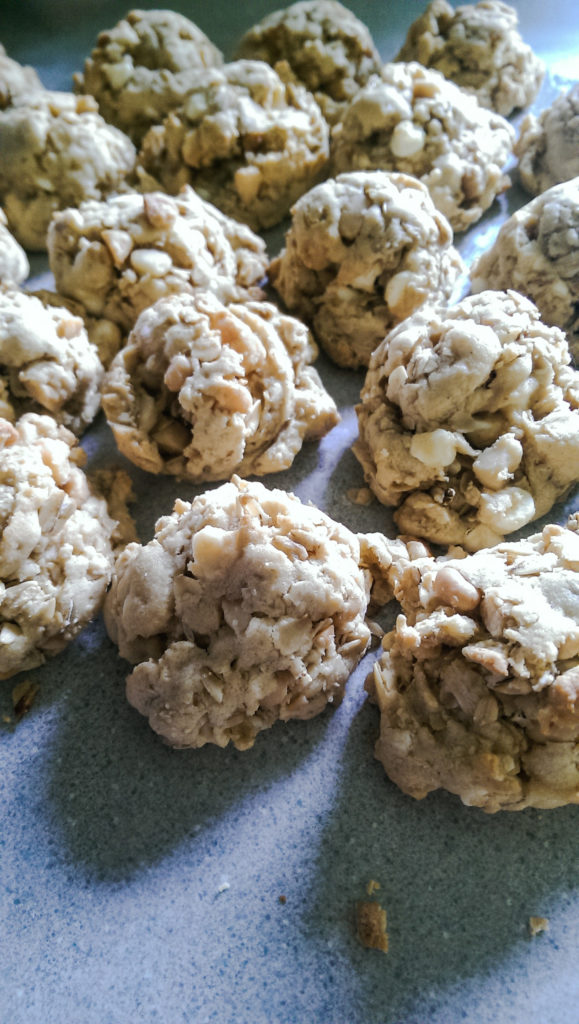 White Chocolate Chip Macadamia Cookies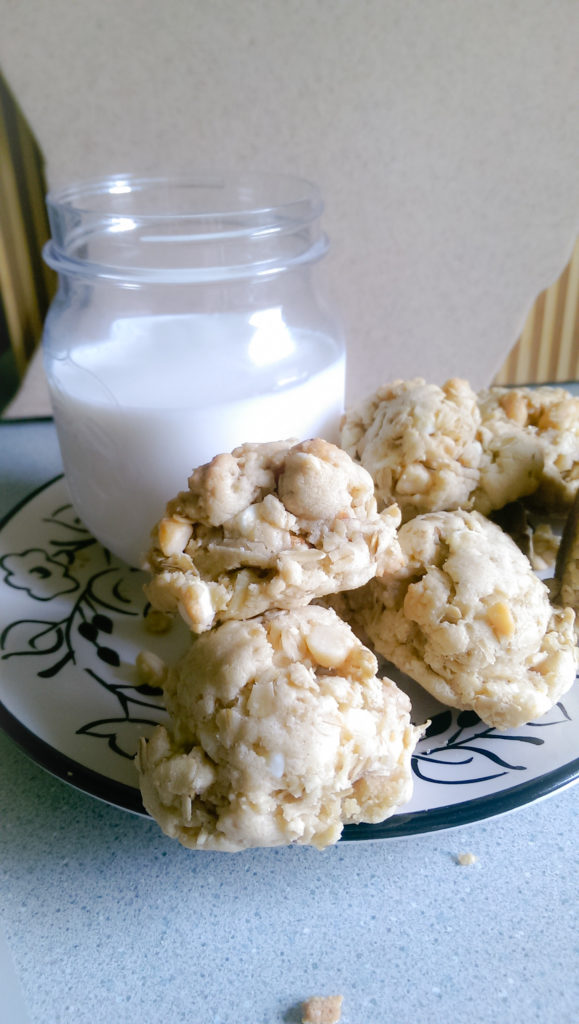 Ingredients
½ cup Butter, softened
½ cup White Sugar
½ cup Brown Sugar
1 egg
1 teaspoon Vanilla
1½ cups Flour
1 teaspoon Baking Soda
1 teaspoon Baking Powder
1½ cups Old Fashioned Oats
1 cup Chopped Macadamia Nuts
1 cup White Chocolate Chips
Instructions
In a large bowl, cream together your butter and sugars until smooth.
Beat in the egg and vanilla.
Combine the flour, baking soda, and baking powder. Add to the creamed mixture.
Combine the oats, nuts, and chips. Add to the mixture until evenly combined.
Preheat your oven to 350 degrees. Drop cookies by whatever size you want onto a cookie sheet.
Bake until the tops start to become slightly golden, roughly 10-12 minutes.