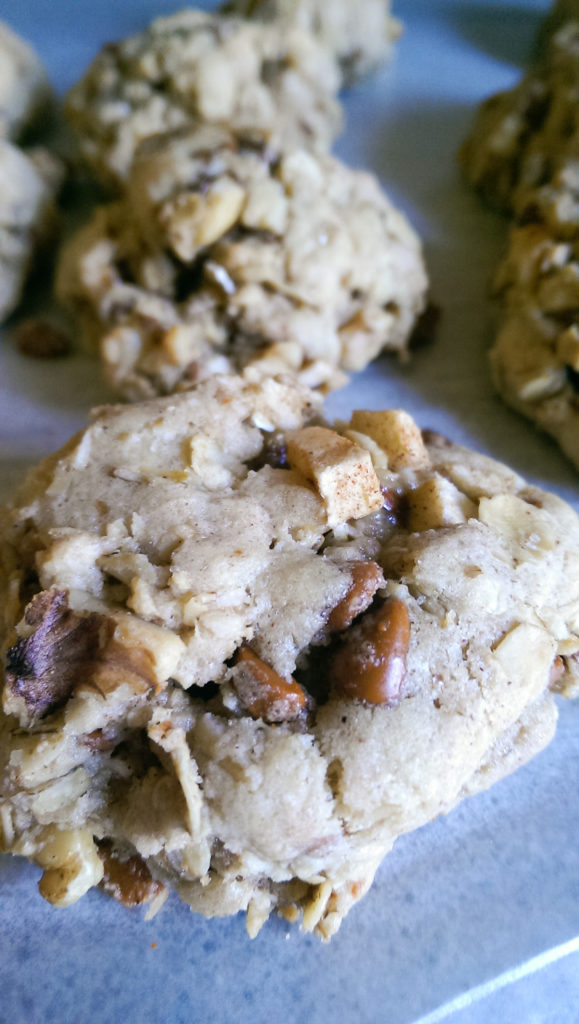 I seriously love these cookies! This recipe is a crazy modification of my White Chocolate Chip Macadamia Nut Cookies. It was something that I just whipped up one day and my husband was quite pleased. It has oats, apples, and walnuts. This makes it a health food. True story.
This cookie hits all the Fall points: apples, warm cinnamon, walnuts…. YUM!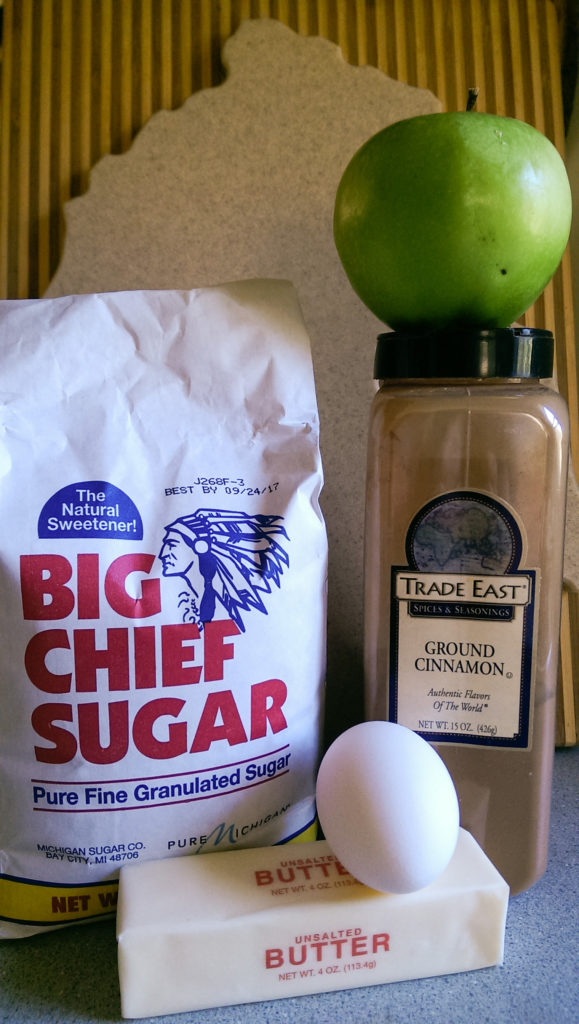 Michigan Ingredients: sugar, cinnamon, Meijer egg, Meijer butter, and Granny Smith Apple.
Apples are in full swing right now. Everywhere you turn, apples are on sale. Stores are advertising "local produce" left and right and who is in the spot light right now? APPLES!
Apples are the perfect snack and can be used in virtually any meal. You want to make a apple gravy, apple cheddar muffins, or put some apples in a crock pot with a pork loin.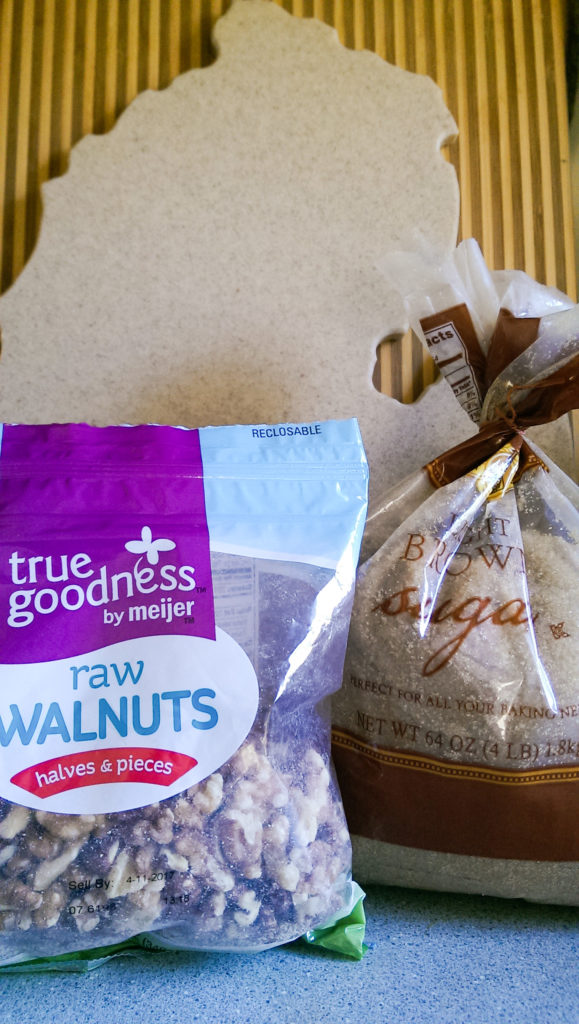 Michigan Ingredients (part 2): Meijer walnuts, Meijer brown sugar
I love it when this happens…. too many Michigan ingredients to put in one picture 🙂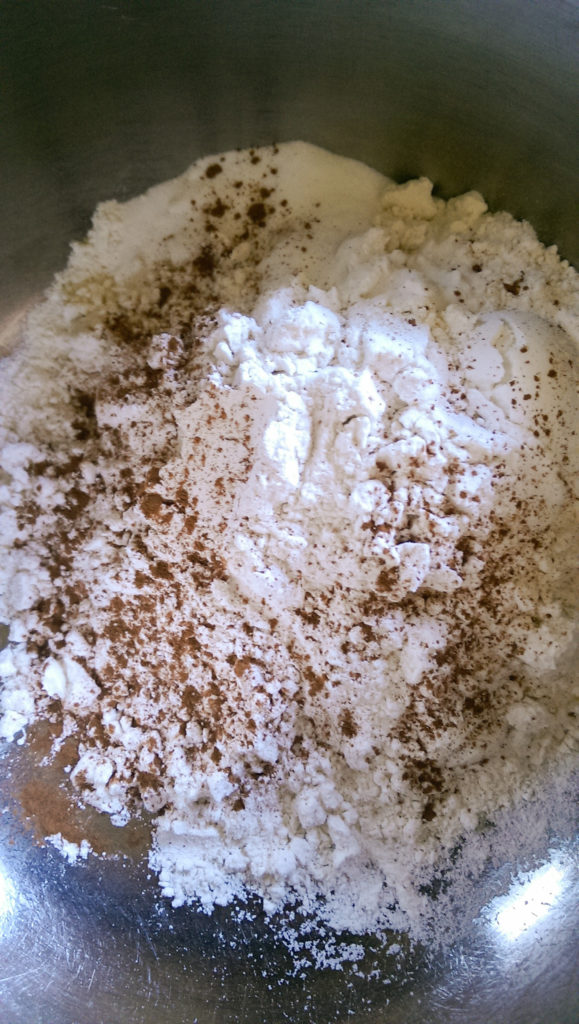 Combine your flour, baking soda, and baking powder. I don't measure the cinnamon. I just sprinkle a little here, a little there. If you have to measure it, use at least 1/2 teaspoon. But this way you can have a little bit of freedom in how cinnamon-y your cookies will be.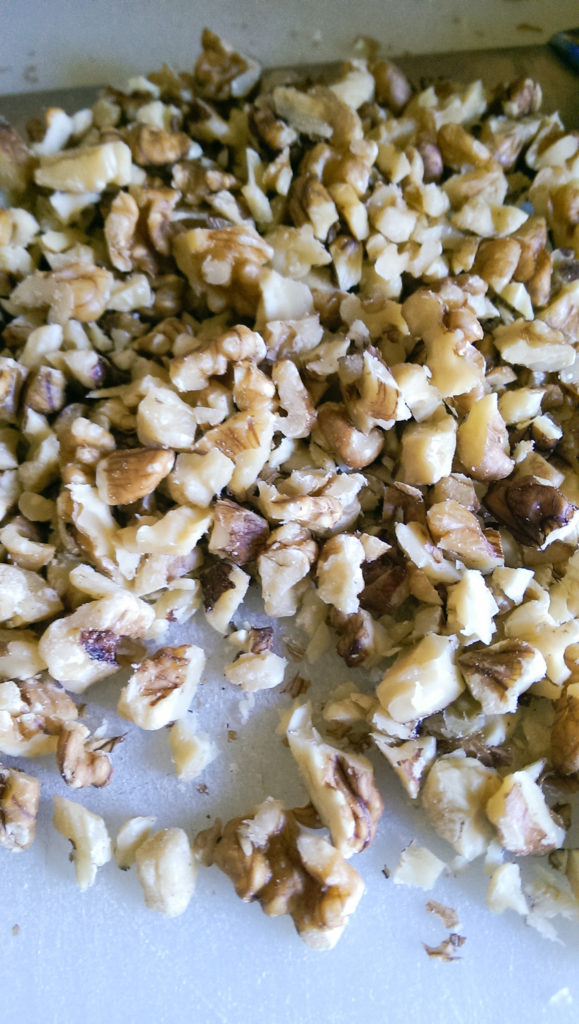 Take a cup of walnuts and chop away to desired size. I don't like too big of pieces due to having a little one… BUT if you want giant pieces, you can try that…. but trust me when I say, it is better to try to make the nut that you are using in your cookies match the size of the chips.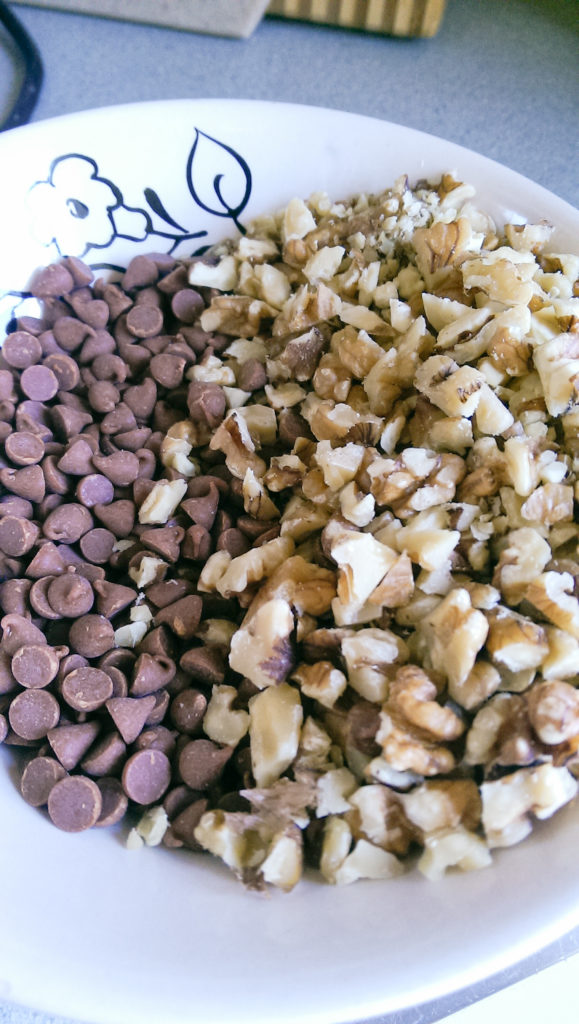 Like so. Look at how beautiful of friends these two ingredients are.
Let's take a side trip… the cinnamon chips are a Hersey product. It is kind of hard to find, but so worth stocking up on. If need be, you can always order them online from Amazon or the Hersey website.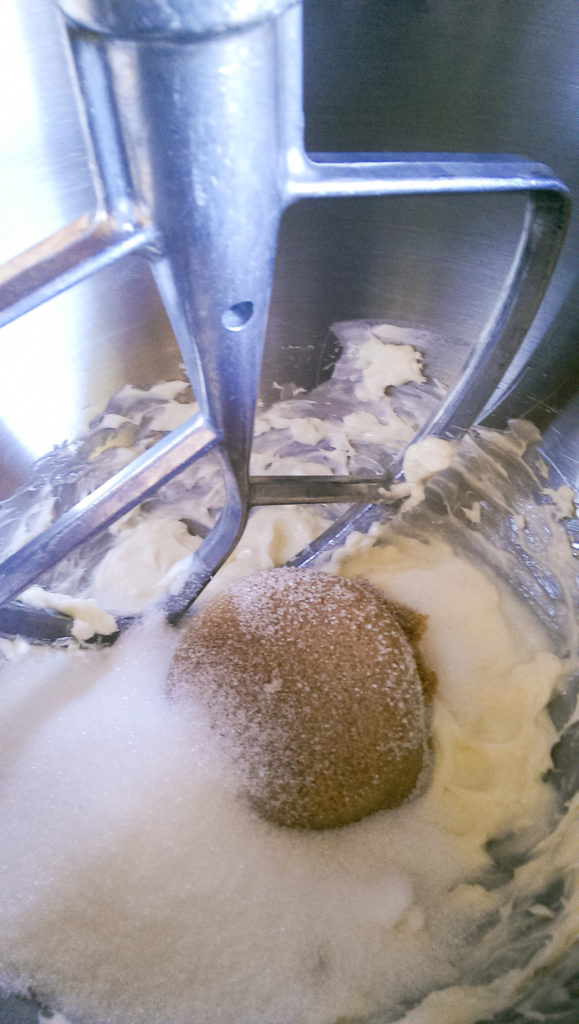 Whip up your softened butter and then add your sugars.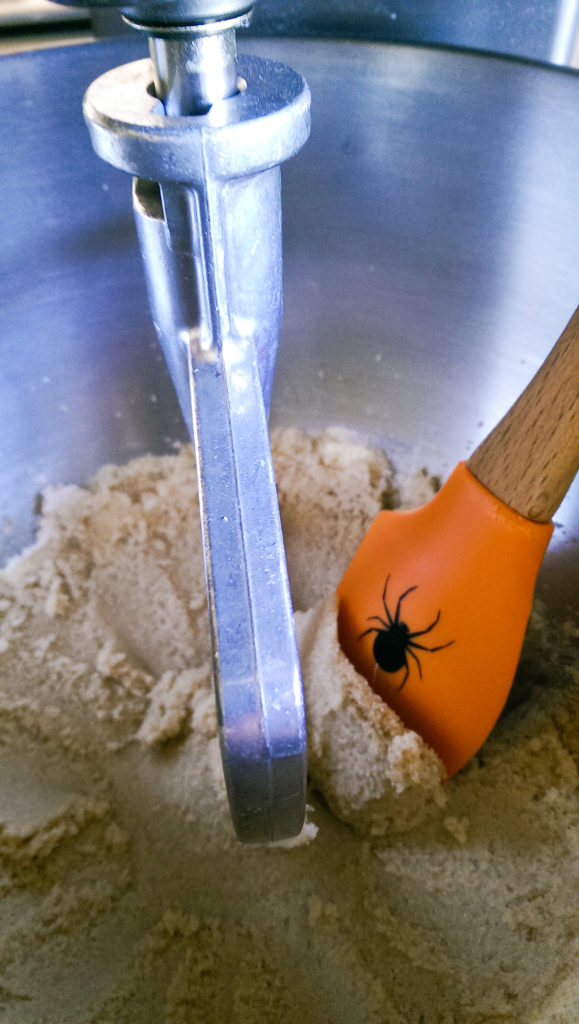 With it being October, I got to bust out my Halloween utensils. Scrap the bowl to help assist in your creamed mixture to be extra creamy.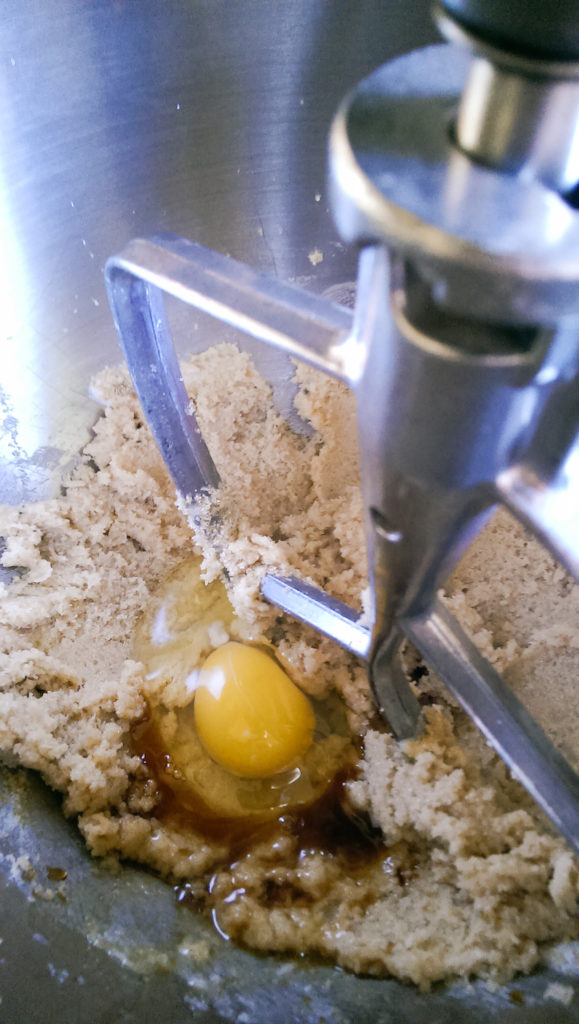 Add your egg and vanilla and beat the mixture until fluffy-ish.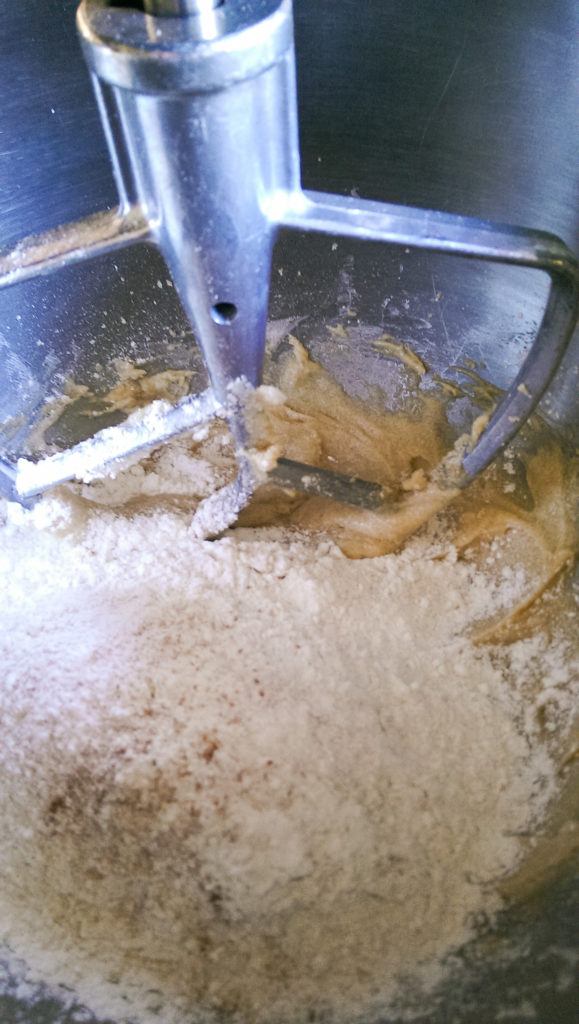 Add your dry mixture and beat until well combined. Forget to take a picture…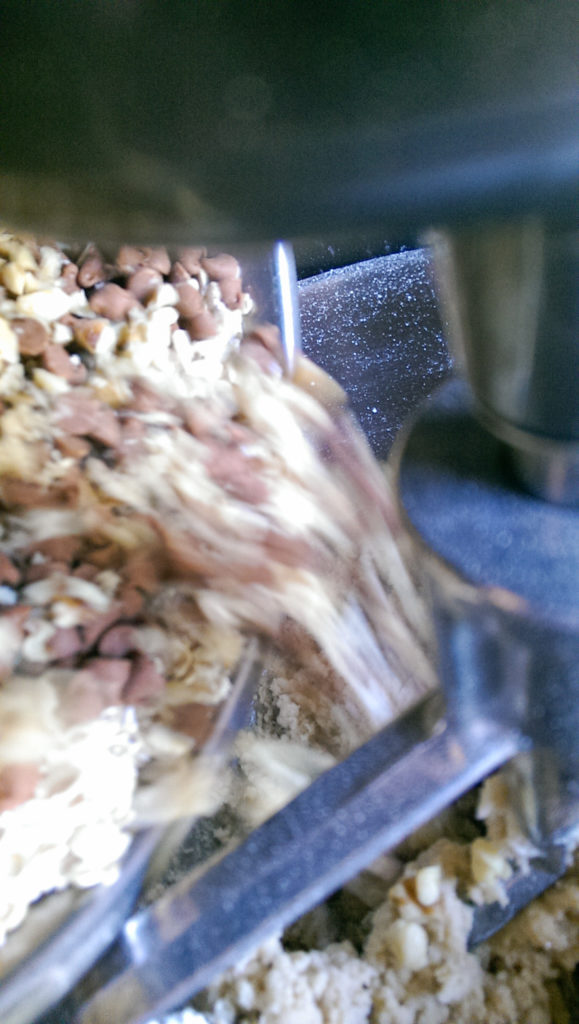 What you didn't see me do here is combine the walnuts, cinnamon chips and oats into a bowl. BUT you can see them being added to the dough.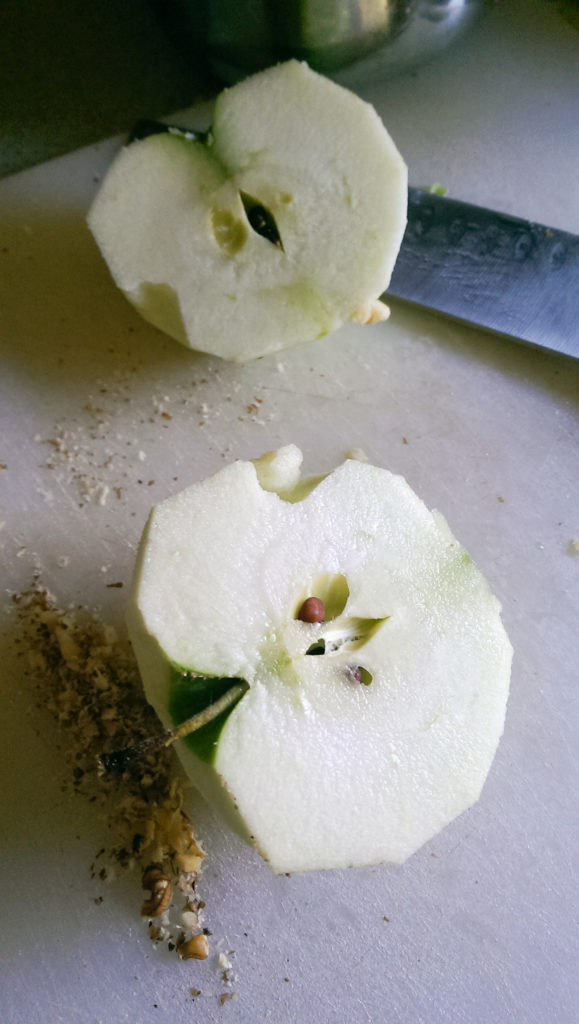 Peel your apple and start dicing.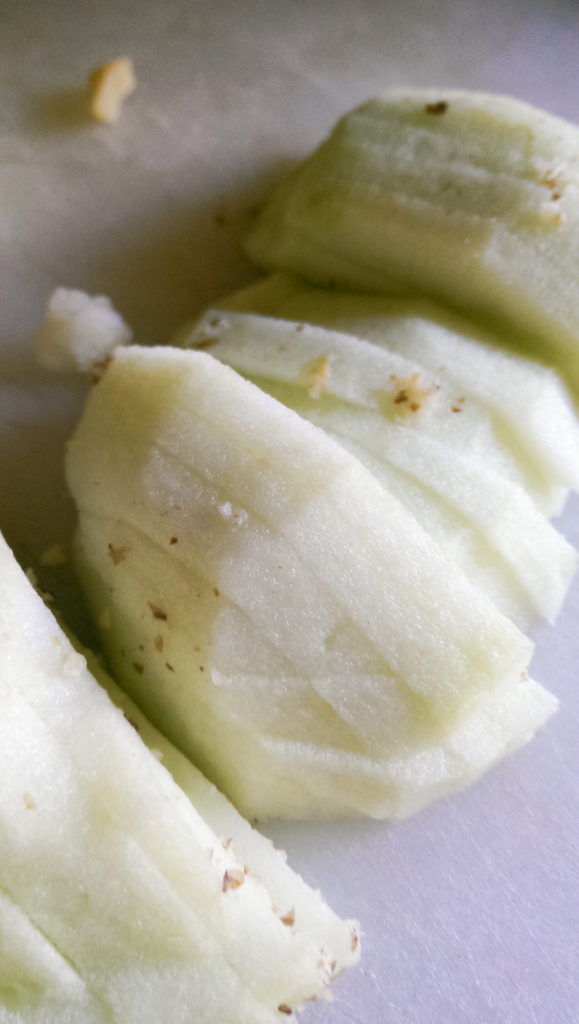 You will want to have your apple pieces be on the smaller side so as to not overcome/sogg-ify your cookie.  Depending on how big your apple is ( I usually use a medium sized apple), cut the quarters in half, then cut into thin strips.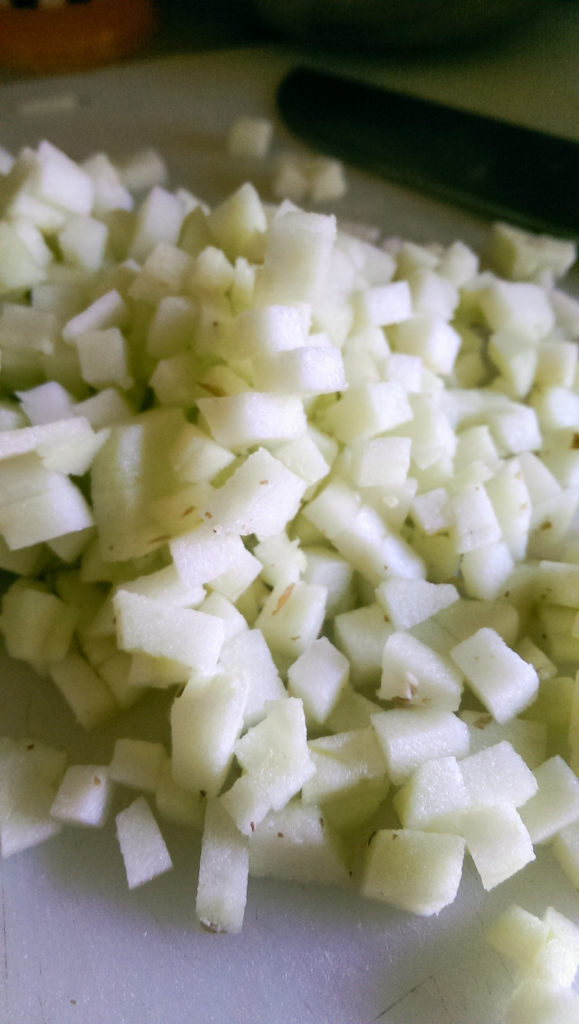 Look at how small these pieces are; yet, big enough that you will taste them in the cookie. Whenever we make apple pancakes, we always cut the apples this size.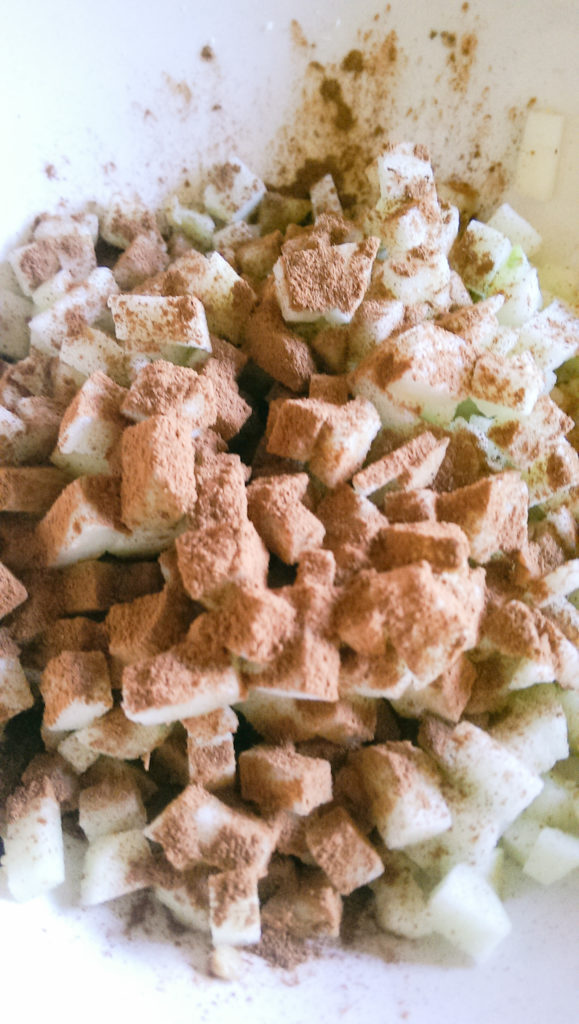 Sprinkle some more cinnamon. Apparently in my mind, there wasn't enough. BUT adding a coating around your fruit is always a good idea. Why, I don't exactly know; however, it is something that my family always does in recipes with fruit. Think of the blueberry muffins for example.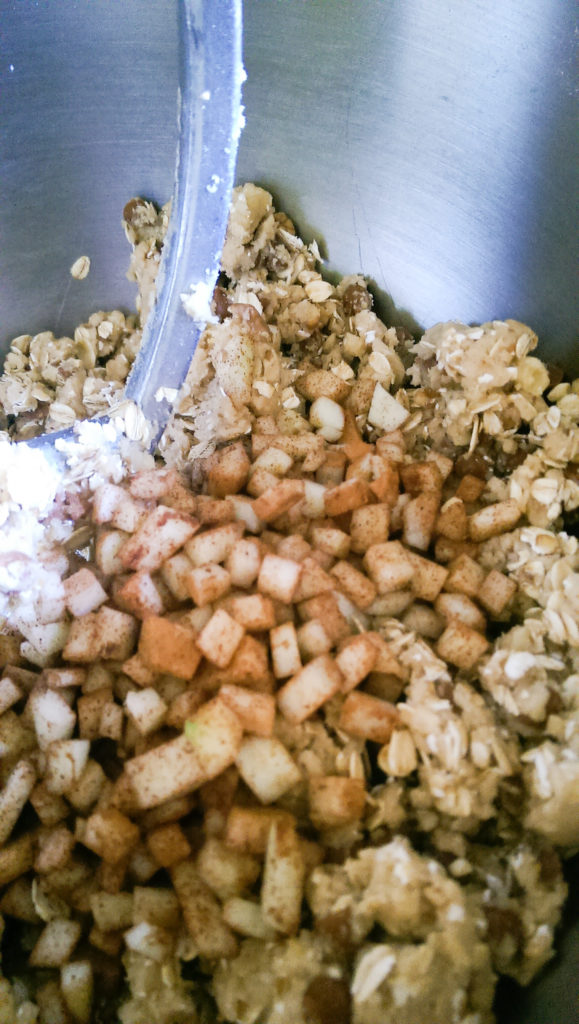 Fold your apples into (or on low…)  the dough.  Take a little nibble… such a warm and inviting cookie dough. And it only gets better when it's baked.
Drop "whatever size you want" of dough onto a baking sheet and bake these beauties at 350 degrees for 10-12 minutes.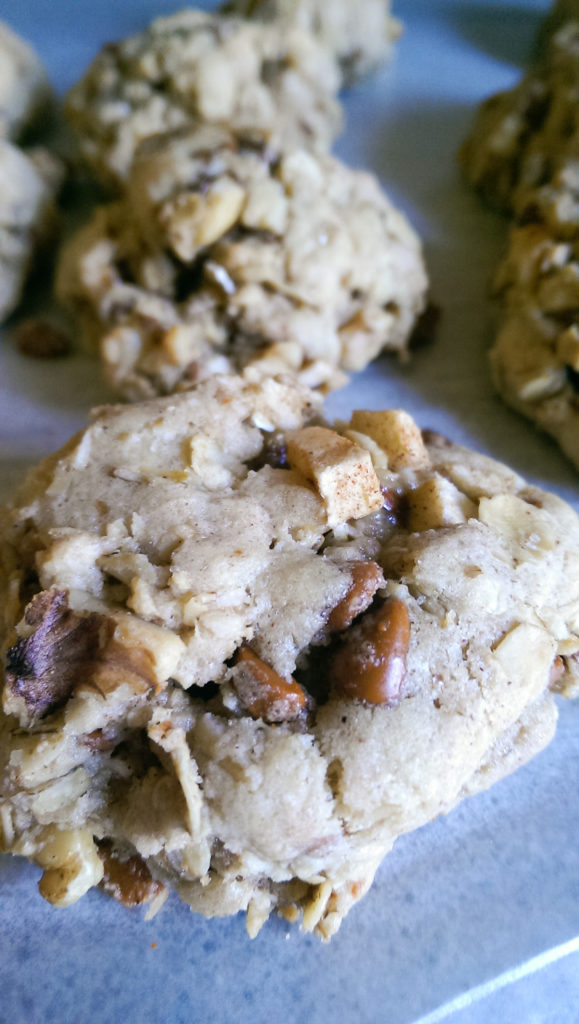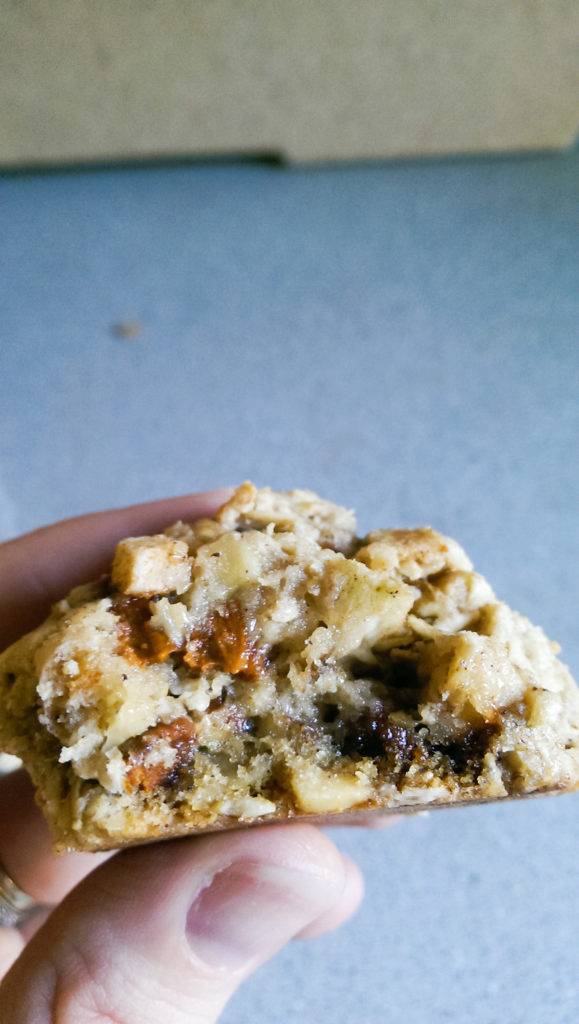 Soft, pillow-y cookies that I am sure will be your go-to Fall cookie. Hurry and make a batch today and share with loved ones. I promise they (and you) will be thankful.

Apple Cinnamon Walnut Cookies
The perfect Fall cookie
Ingredients
1½ cups Flour
1 teaspoon Baking Powder
1 teaspoon Baking Soda
1 stick or ½ cup Butter (softened)
½ cup Brown Sugar
½ cup Sugar
1 egg
1 teaspoon Vanilla
1 cup Cinnamon Chips
1 Cup Walnuts, chopped small
1½ cups Old Fashioned Oats
1 medium sized Granny Smith Apple
Lots of Sprinkling of Cinnamon
Instructions
Combine your flour, baking powder, and baking soda in a bowl. Sprinkle some cinnamon. You can add as little or as much cinnamon as you like. Set aside.
In the bowl of your mixture (or separate bowl), whip up your softened butter. Add your sugars and beat until combined. I would recommend scraping the bowl at least once before the next step.
Add your egg and vanilla to your creamed mixture and beat until fluffy.
Add your dry ingredients that you set aside and mix until combined.
Combine your chopped walnuts (which you can do by hand or buy them pre-chopped/small), cinnamon chips, and oats in a bowl. Add to the dough mixture.
Peel and dice your apple into tiny pieces. Sprinkle cinnamon over the apples and give a little stir. Fold (or on the lowest setting) the apples into the cookie dough until just combined.
Bake at 350 degrees for 10-12 minutes