Baked Oatmeal is a hearty breakfast favorite that you can have year round.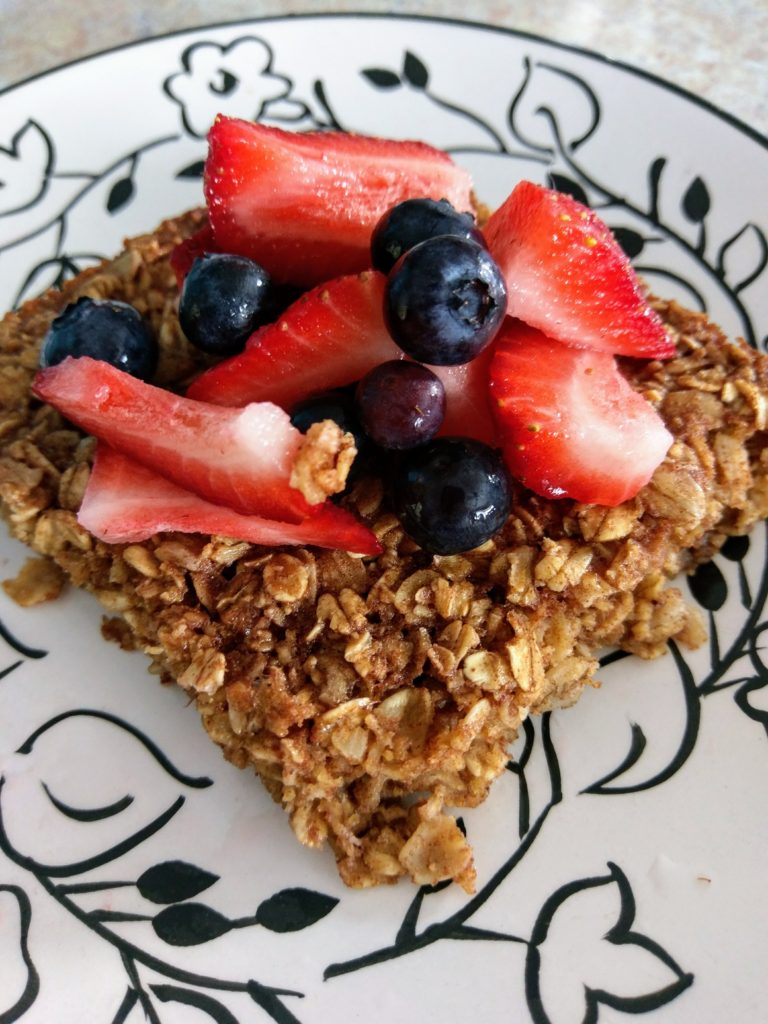 I first started making this baked oatmeal after I had my daughter because I was breastfeeding. I learned that certain foods would help promote the production of breast milk and oats was on that list. I didn't want to submit myself to having instant oatmeal and I didn't really have time to make (let alone eat) instant oatmeal.  I would make this once a week and typically would be rushing out the door and would be eating this in the car (of course minus the berries).
I pulled this recipe out of archive recently because we all want to be healthier and also because my beautiful cousin just recently had a baby.  If there is a way that food can work its magic in health (i.e. lower cholesterol,  boost breast milk production, etc), I am there!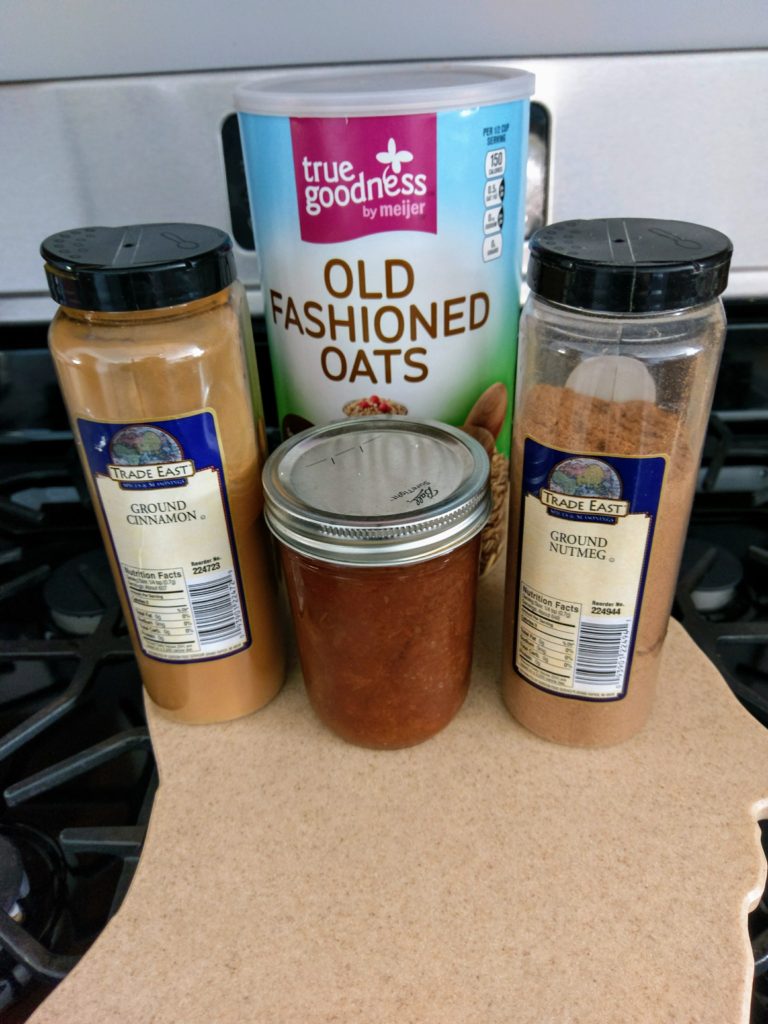 Michigan Ingredients: Oats, Cinnamon, Nutmeg, Homemade Applesauce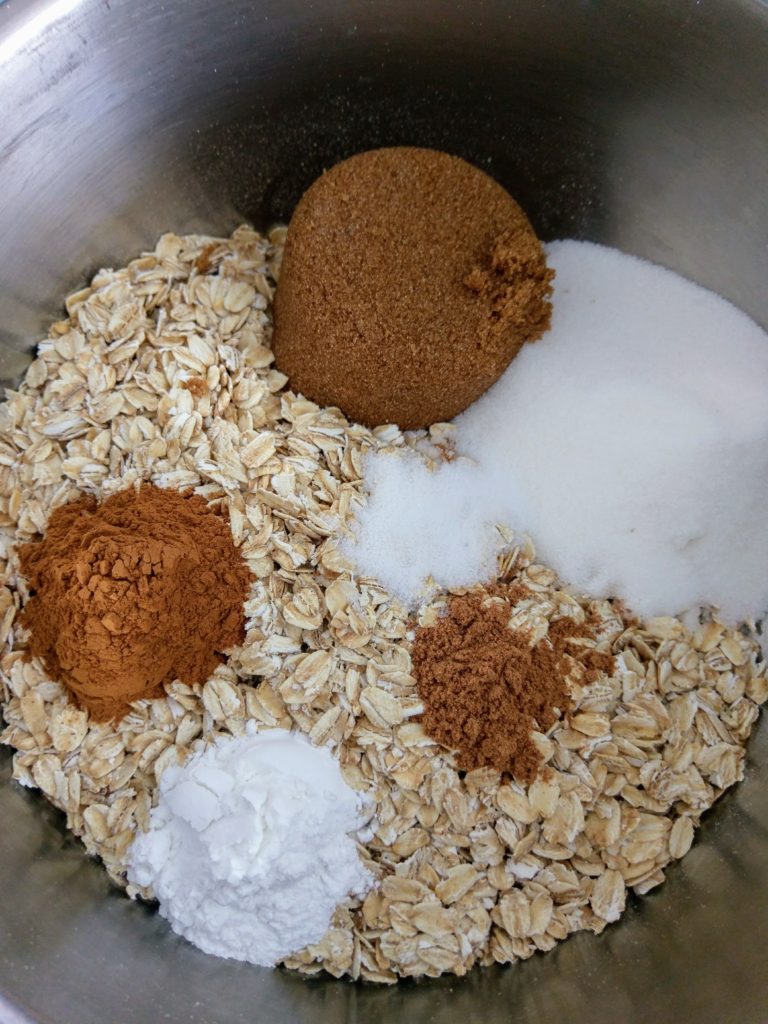 Mix your flour, dark brown sugar, oats, baking powder, salt, cinnamon, nutmeg
I know you are probably wondering… why dark brown sugar. It's one of those things that just makes this taste better. It takes good with light brown sugar, don't get me wrong. BUT! It takes more homelike. More… just trust me and get a package of dark brown sugar 🙂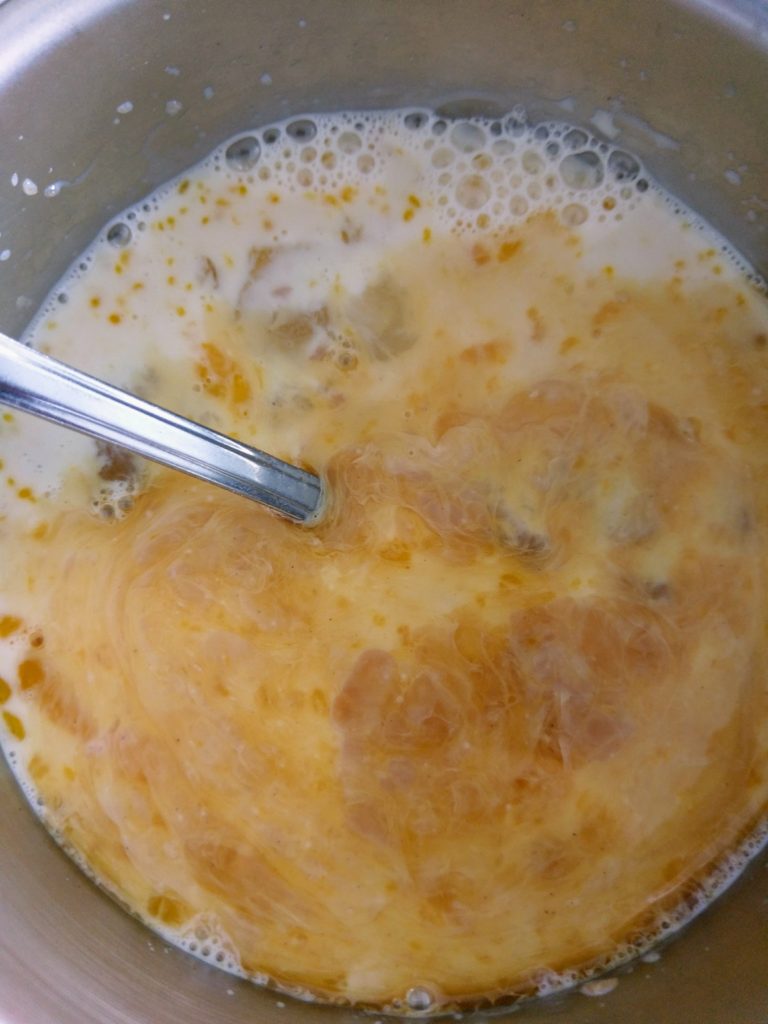 Combine your eggs, milk,  applesauce, vanilla. Now the original recipe calls for a lot of butter. I cut that in half and replaced the other half with the applesauce. There is a slight apple taste, but not enough to overpower it; which means that you can top it with anything.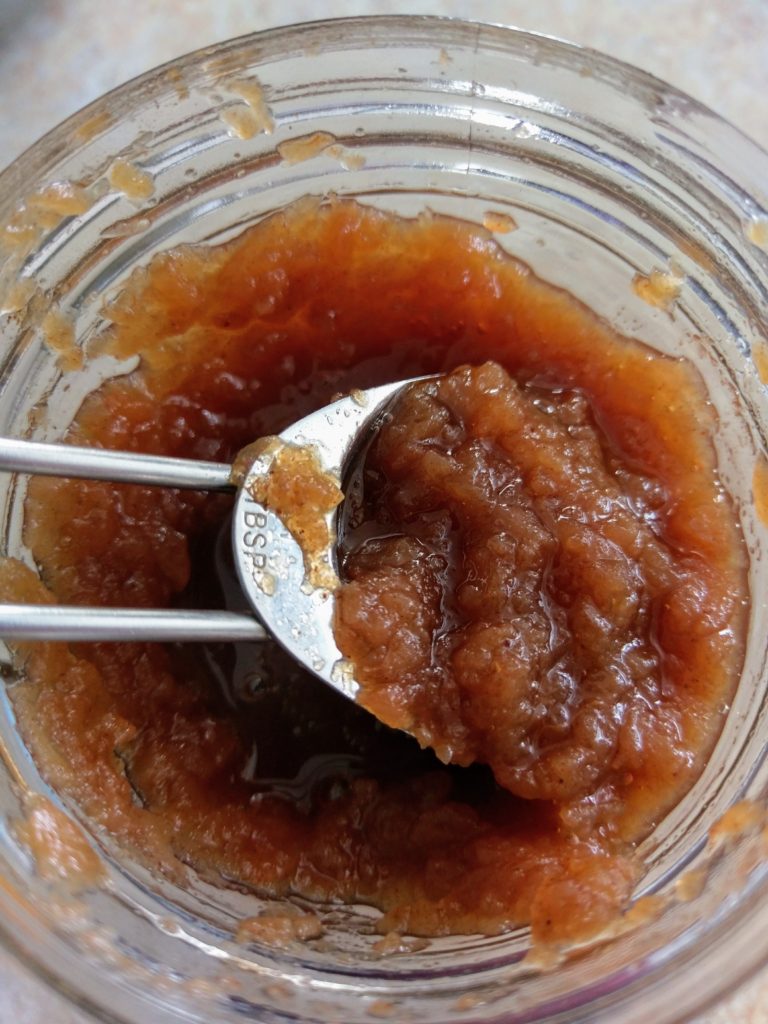 Seriously… this is the most amazing applesauce. It was difficult not eating the whole jar.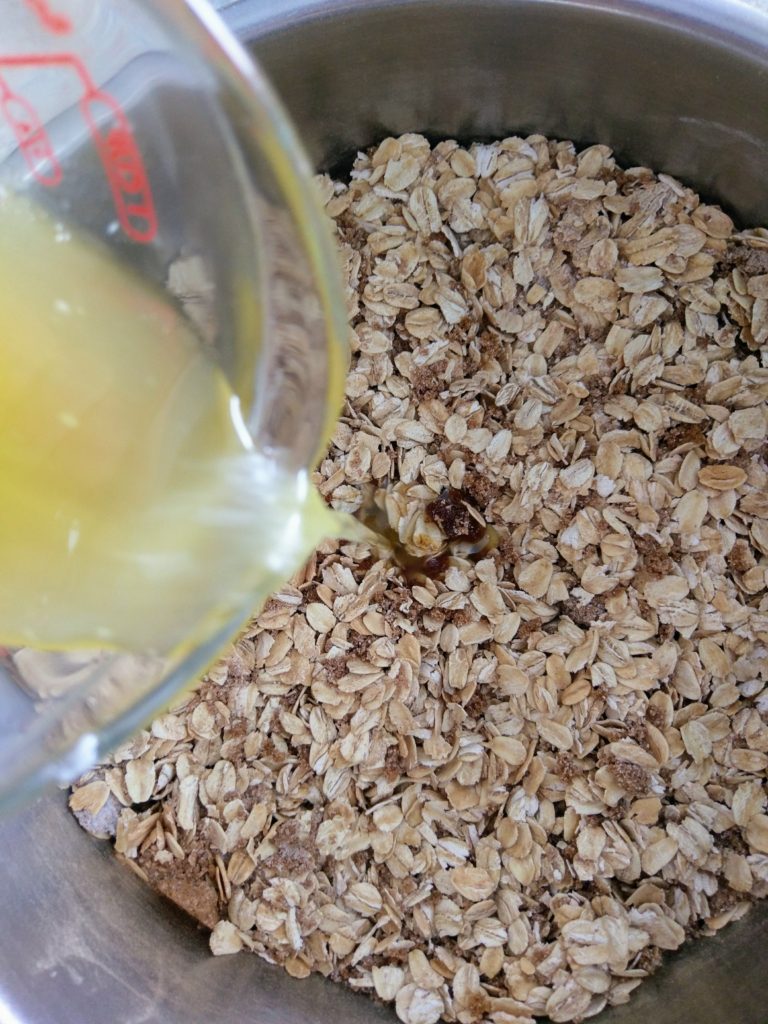 Pour half a stick of melted butter (1/4 cup) over the oats. Like I said earlier, I made this recipe probably over a thousand times as I breastfed my daughter for two years. I learned very early to pour the butter in the "dry" mixture. By doing this, you take the risk of scrambling the eggs out of the equation. I did that twice and would get frustrated and figured this was the next best step. I know some might say… temper this and temper that… but when you can take the shortcut and it still tastes amazing, do it.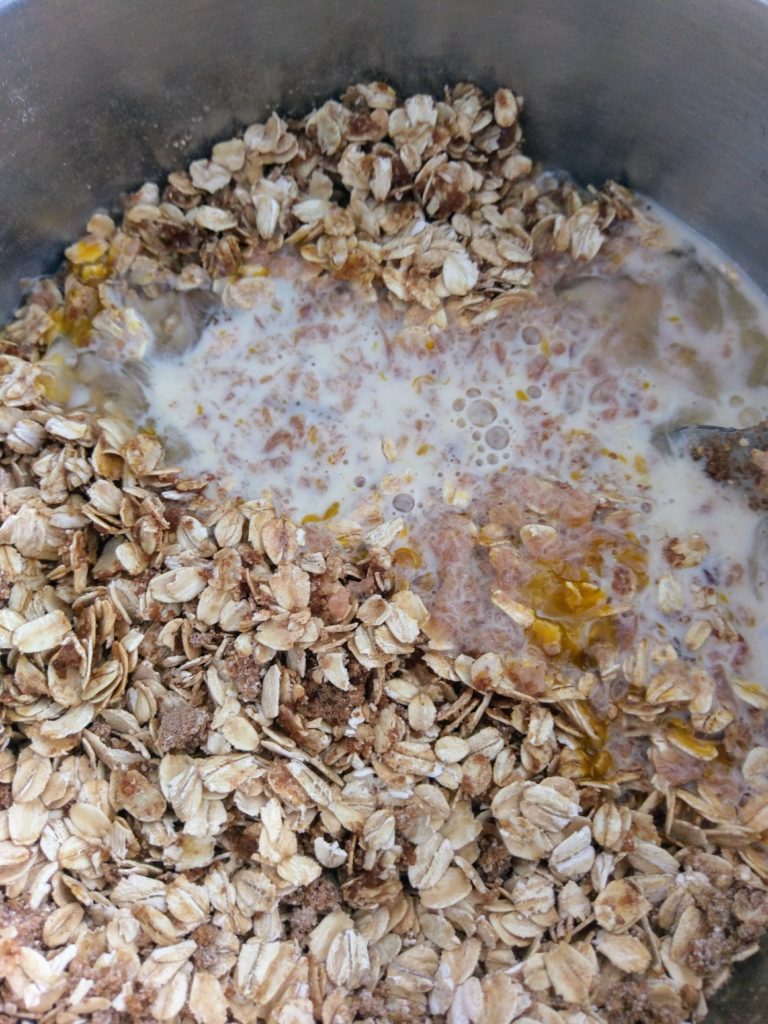 Pour the liquid mixture into the dry mixture and…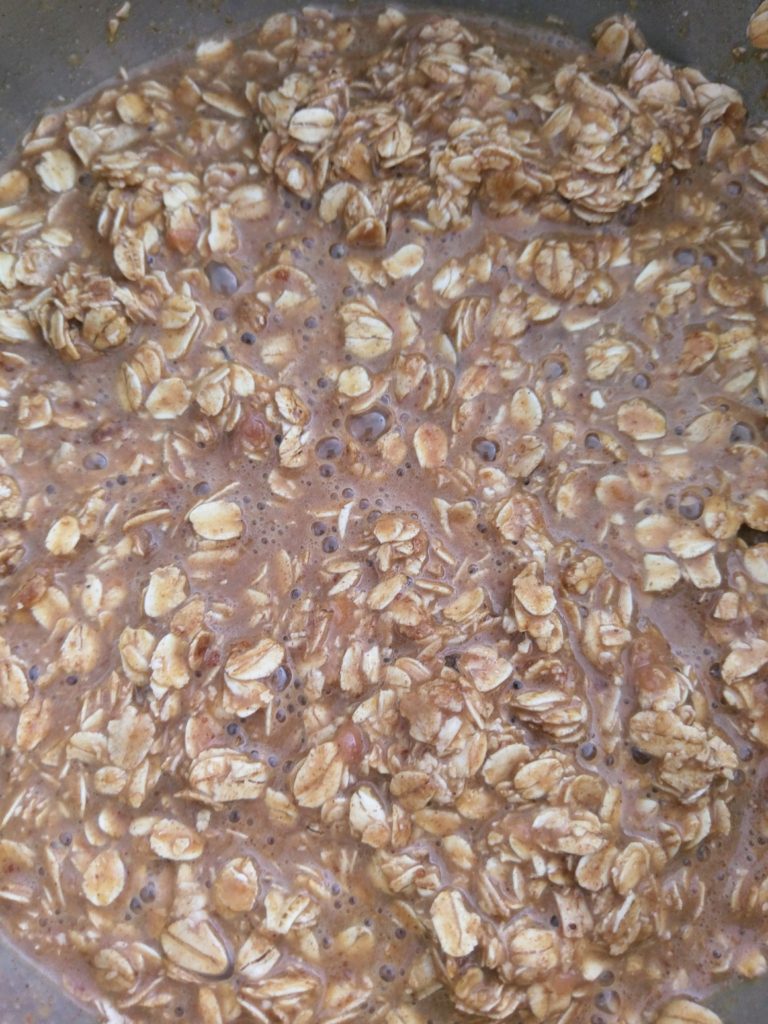 Combine! Now it may look a little runny, but think about when you make instant oatmeal. It seems like there is too much liquid and poof! After being in the microwave for a couple of minutes, the oats soak up the liquid and is delicious. This is the same thing. Those beautiful oats will soak up the liquid.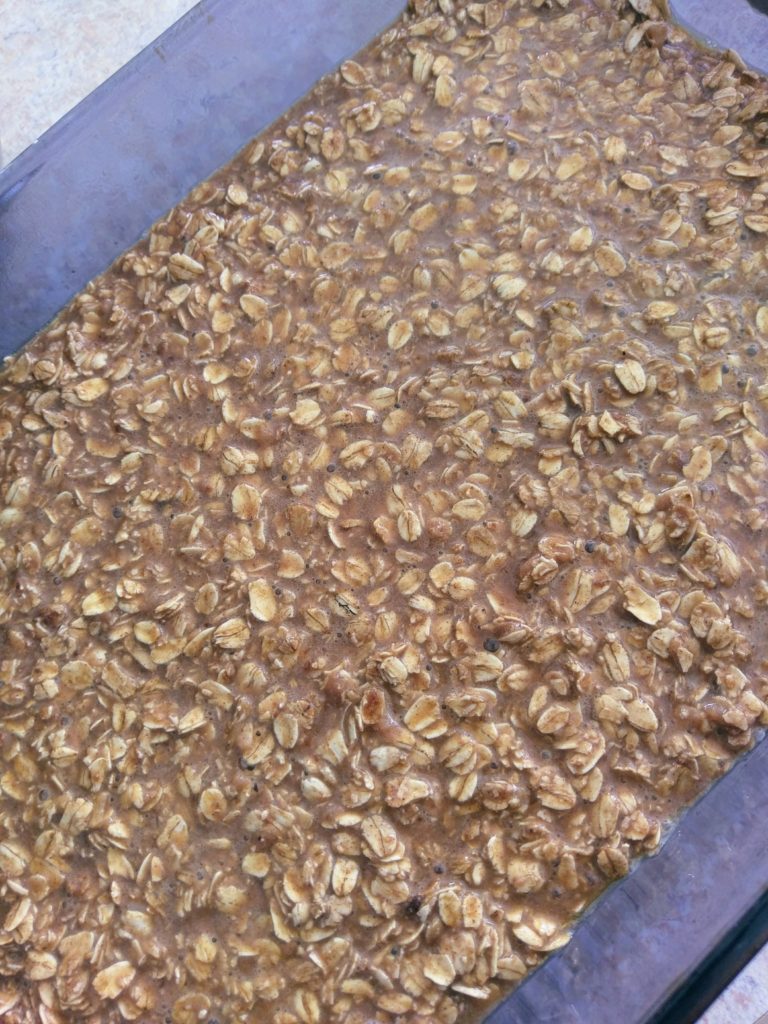 Pour the mixture into your favorite  9×13 glass pan and bake for 20-25 minutes until done. For me it is always 25 minutes, but I still check it at 20 just in case my oven decides to be crazy. You will know it is done when it doesn't jiggle (technical term). Top with whatever fruit you have or yogurt.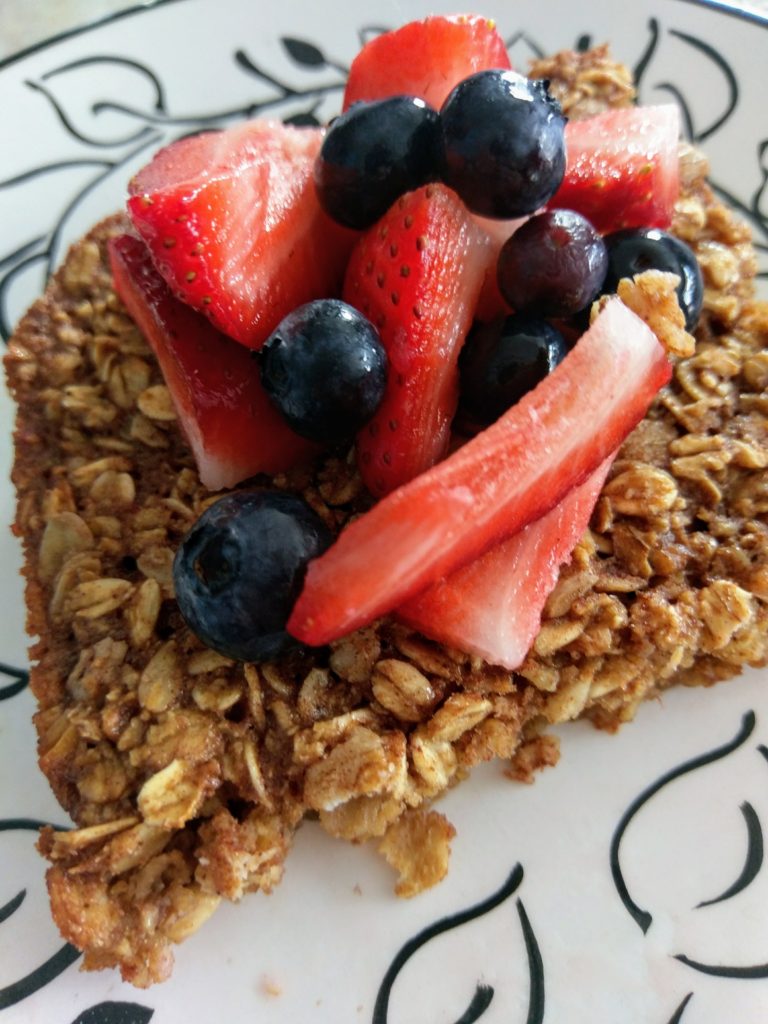 Baked Oatmeal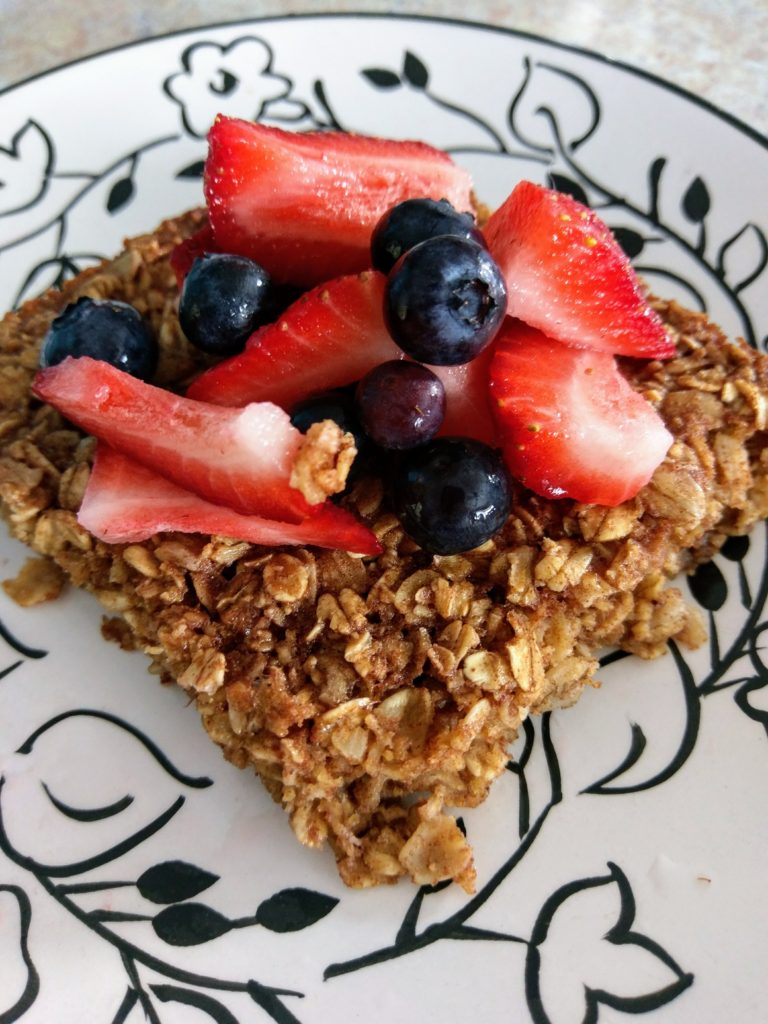 Baked Oatmeal is a hearty breakfast favorite that you will want to have year round.
Ingredients
3 cups Old Fashioned Oats
1 cup Brown Sugar (dark or light)
2 teaspoons Cinnamon
½ teaspoon Nutmeg
2 teaspoon Baking Powder
1 teaspoon Salt
1 cup Milk
¼ cup Butter (melted0
¼ cup Applesauce
2 large egg
Couple of splashes of vanilla extract
Instructions
Combine your oats, brown sugar, cinnamon, nutmeg, baking powder, and salt in a large bowl.
Combine milk, eggs, apples sauce, and vanilla in a separate bowl.
After you have melted your butter, pour the butter into the dry mixture. This will help prevent the dread scrambling of the eggs due to the butter being warm.
Add the milk and egg mixture and combine.
Pour the mixture into a 9x11 glass baking dish that has been sprayed with non-stick cooking spray. You do not want to forget that.
Bake at 350 degrees for 20-25 minutes until it reaches the firmness that you desire.
Top with fruits, yogurt, etc.
Notes
Recipe adapted from allrecipes.com