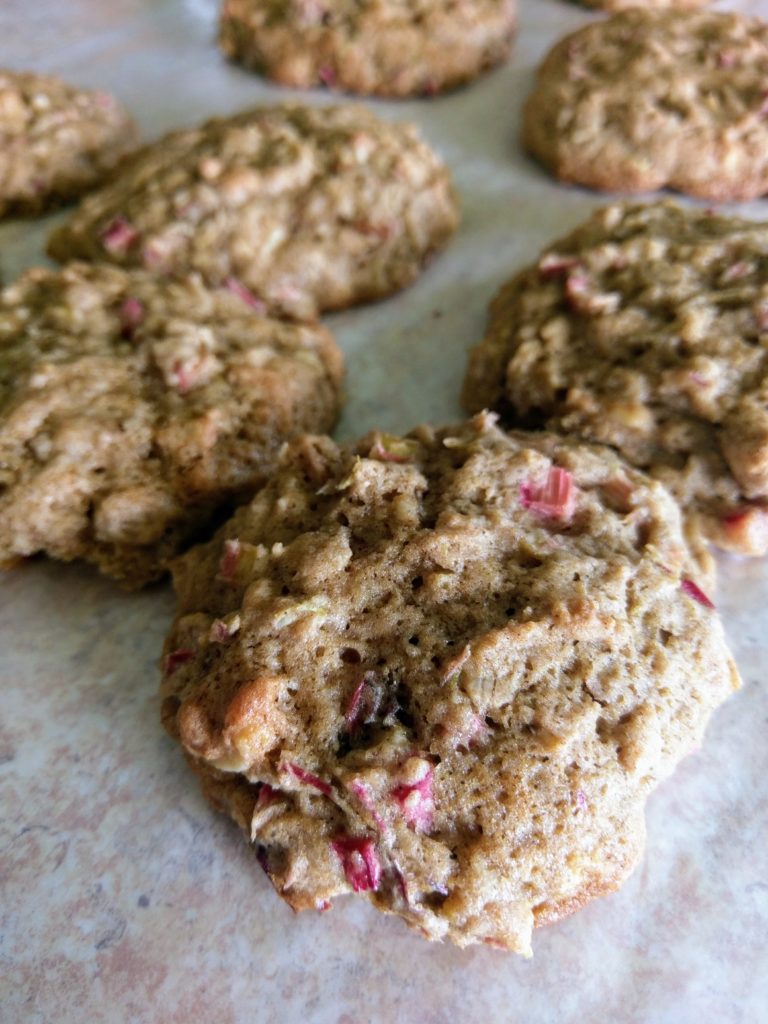 Rhubarb season is almost over (practically) and I had to get this recipe out to you a.s.a.p. You are still able to get some rhubarb at Meijer…. so get in your car and come back… We can wait. Things have been a bit hectic in our household, but we power through!
With the summer comes lots of yard work and let me tell you that it feels like we are starting with a blank canvas and have spent a huge chunk of our days outdoors. Thankfully, Doll loves the outdoors.
Now that we are almost at a "maintain" point as opposed to planning stuff here, fixing stuff there… etc. I can spend my "nap time" time doing this.
BUT these cookies… I love them. I was trying to figure out something to make with rhubarb. Something a bit more unique, as everyone has done  Rhubarb Bread, Rhubarb and strawberry pie, jam, you name it; it's been done/seen. HOWEVER! I have never heard of rhubarb cookies before. I googled and had a good starting point for a cookie that needed just a bit of tweaks. It reminded me of  Zucchini Cookies.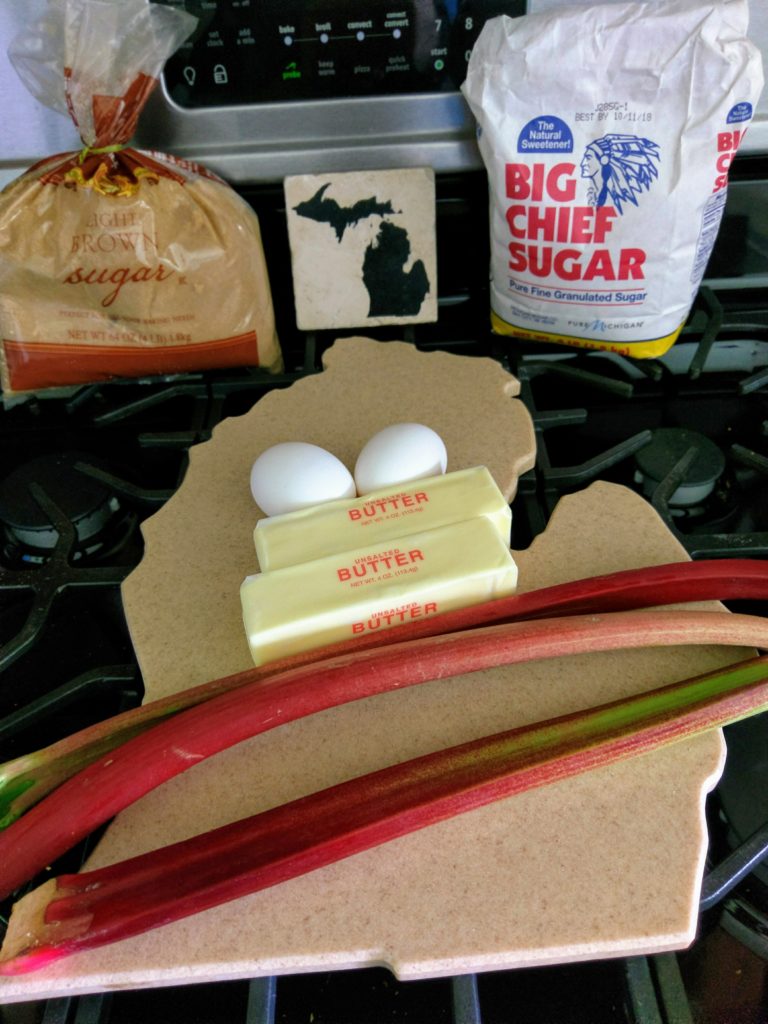 Michigan Ingredients: Rhubarb (from my favorite orchard), Eggs, Butter, Sugar, Brown Sugar (and not pictured because I am silly… Cinnamon)
Now when it comes to Rhubarb, please make sure you get the most red stalks. For one they are more pretty, and for another, the redder the better. The red stalks are also more tart, which is the characteristic we are going for.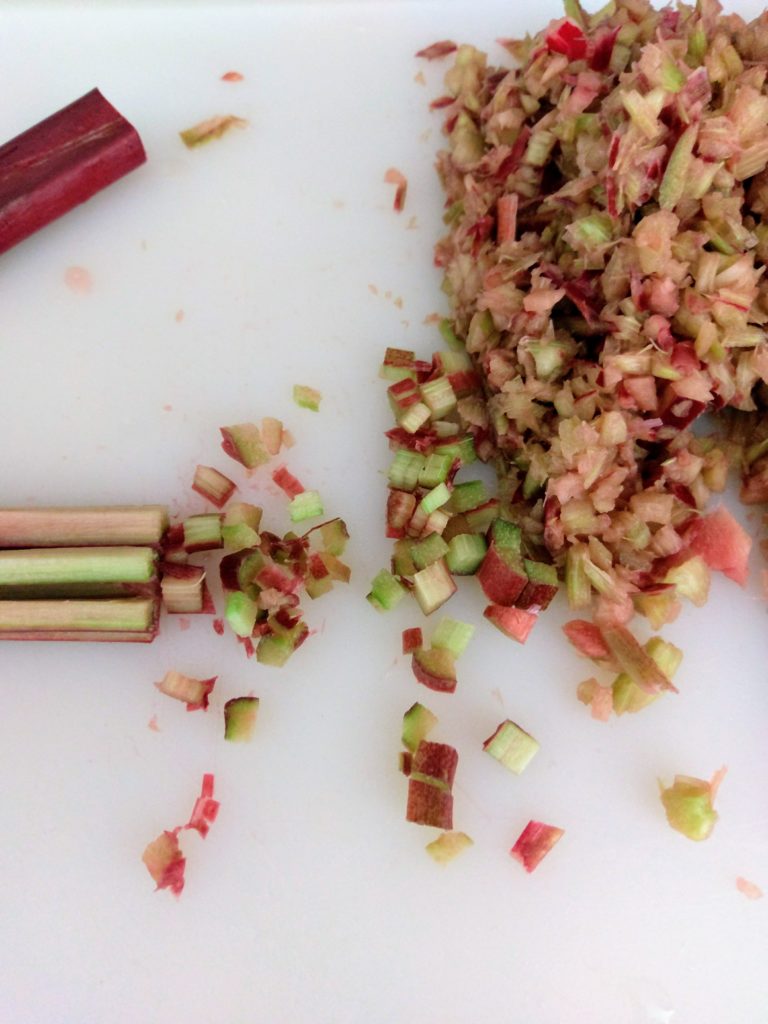 First things first, grab all the Rhubarb and start to chopping. It was a bit hard to gauge how much Rhubarb would be needed for 4 cups in total.  I happened to grab 6 stalks and hoped I would have enough. I had about one and a half stalks left over, which you could use for Rhubarb Bread.
When I started chopping the Rhubarb, I wanted to make sure it would be something that my family would eat, because as I have stated before, Rhubarb is an acquired taste/tart. I grew up with my grandmother making Rhubarb pies, so I was already use to/in love with Rhubarb.  I figured chopping the Rhubarb into small, tiny pieces would be a good start.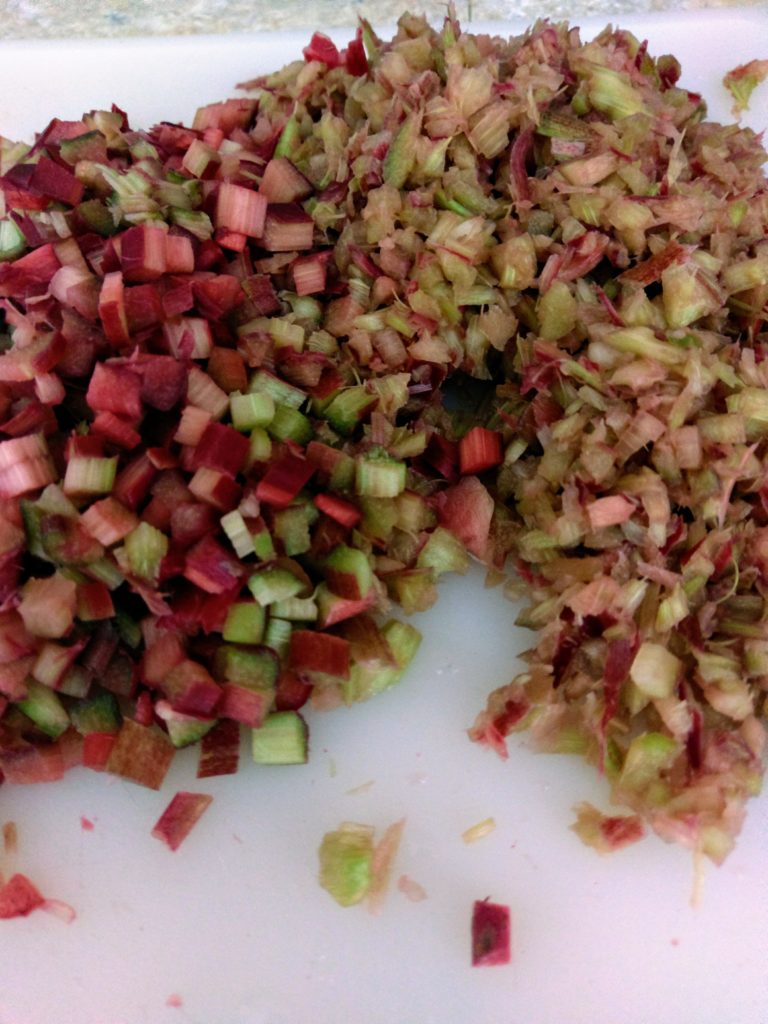 This is the same reason why I shredded 2 cup in the food processor. It helps ease you in, but still gives you that tart flavor! Trust me when I say that when you eat these cookies, it is not just one tart bite; the sugar in the cookies help balance everything out. Set your 4 cups of Rhubarb off to the side.

Start creaming your 2 sticks of softened butter and 1 cup of each sugar together until fluffy. Of course, you know how I always start, start the mixer with just the butter to give it a head start, then add the sugars.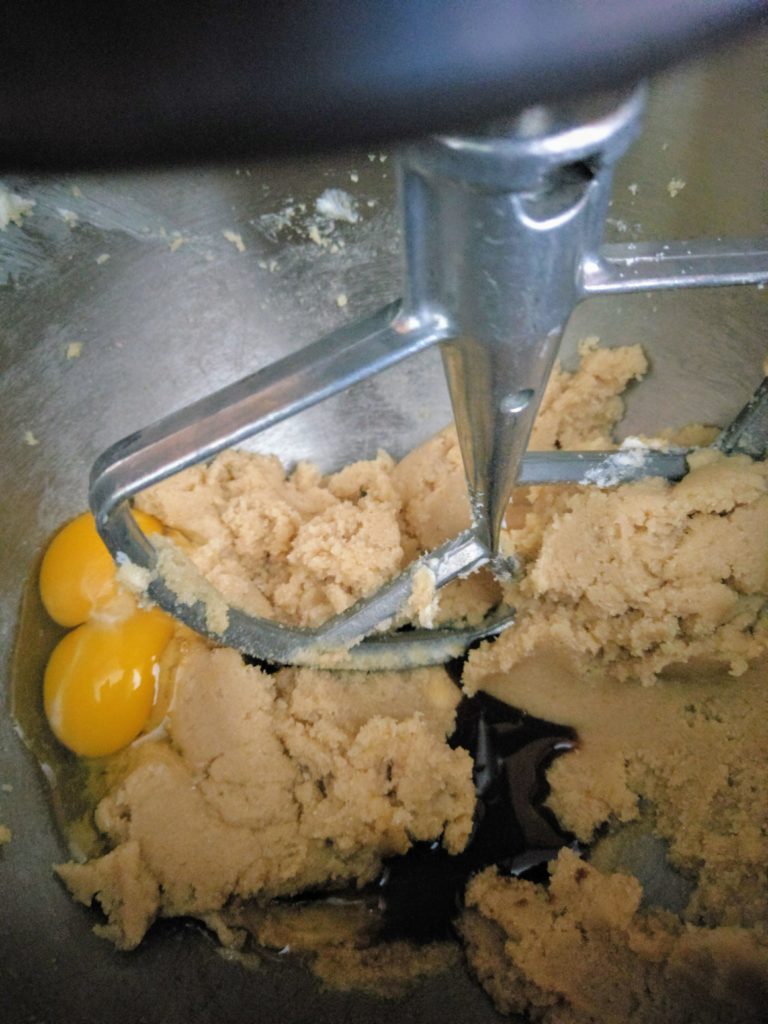 Add your 2 eggs and 2 teaspoons of vanilla. I know it may look like I am using a special type of vanilla in the picture, but I can assure you that it is your basic pure vanilla extract. It is not the type you have to order from exotic places/spend a small fortune. I am thinking about how fun it would be to make vanilla extract from scratch. I've seen other people do it, and it doesn't seem hard…. it just takes time.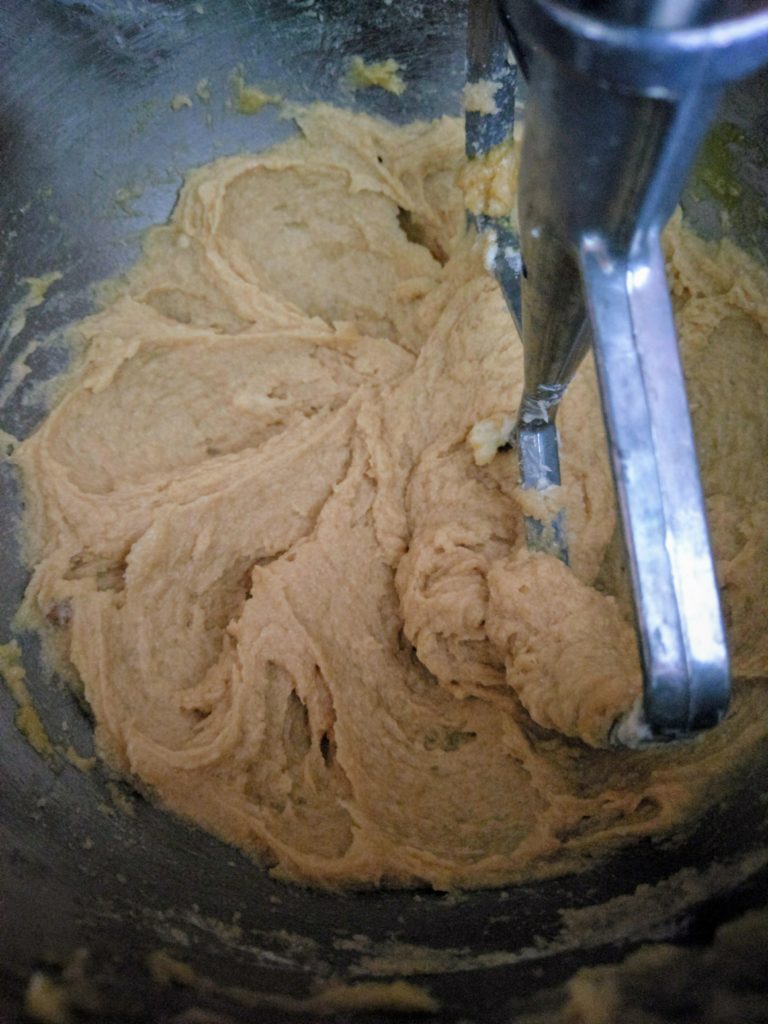 Look at that! Fluffy and delicious.. I mean… just fluffy lol.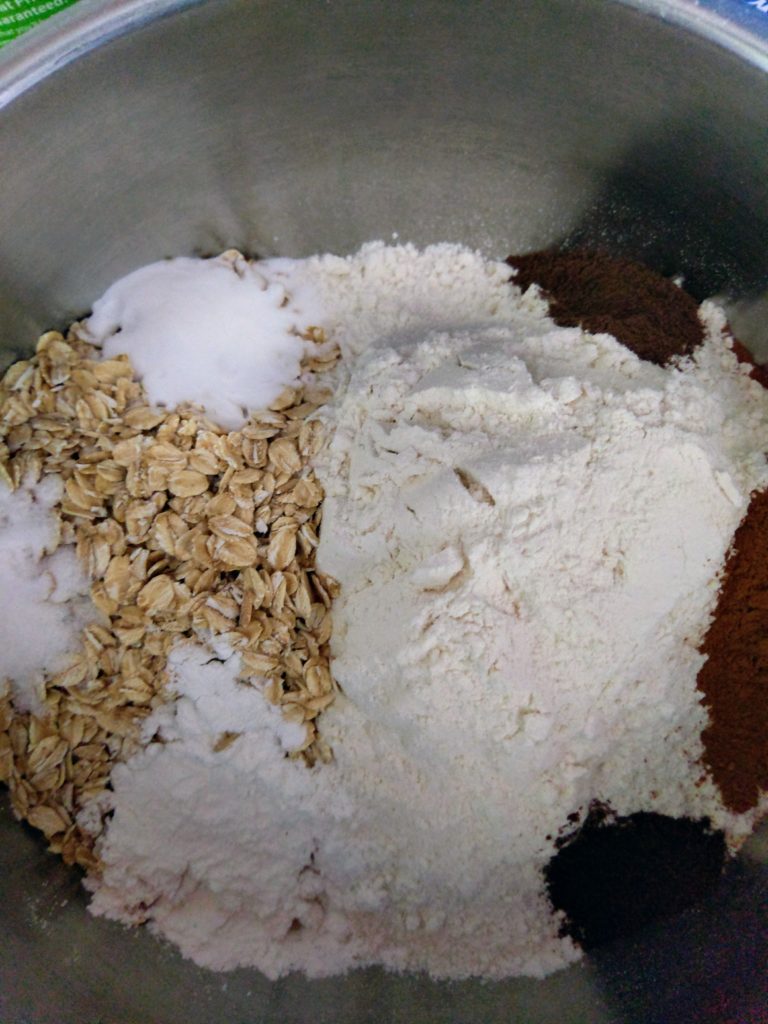 DRY INGREDIENTS!! Sorry for shouting. You know that warm and inviting smell that makes you think of  the holidays/going to grandma's house? These spices put in the same vicinity do that. Trust me… I started getting them out and placing them in the bowl and realized that the dough part of this cookie was going to be amazing. The line up: 3 cups of flour, 1 cup of oats (old fashioned, because… come on, it's better for baking), 2 teaspoons of baking soda, 2 teaspoons of baking powder, 2 teaspoons of cinnamon, 1/2 teaspoon ground cloves, 1/2 teaspoon ground allspice, and 1 teaspoon of salt. Combine all these in a separate bowl. Stir and make them friends.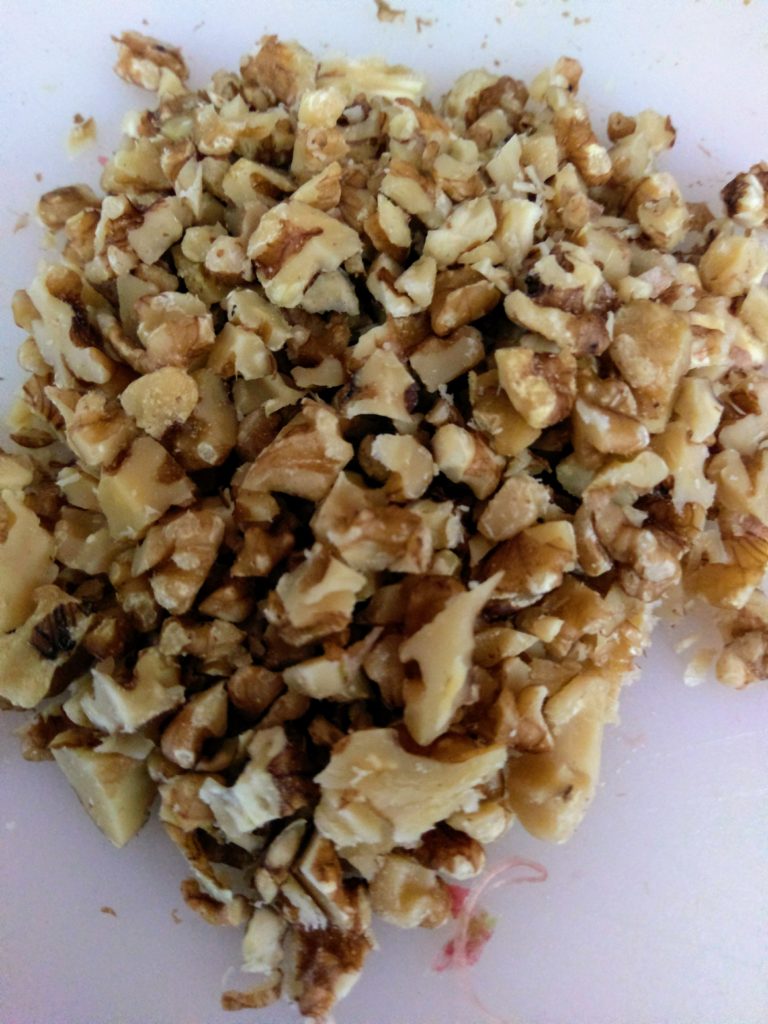 Now I always chop my walnuts myself with a giant knife, but you can always  buy your walnuts pre-chopped.  As I have mentioned in previous posts, I buy my walnuts in the giant bag. I am always using walnuts in baking, salads, etc. so it makes more sense for us.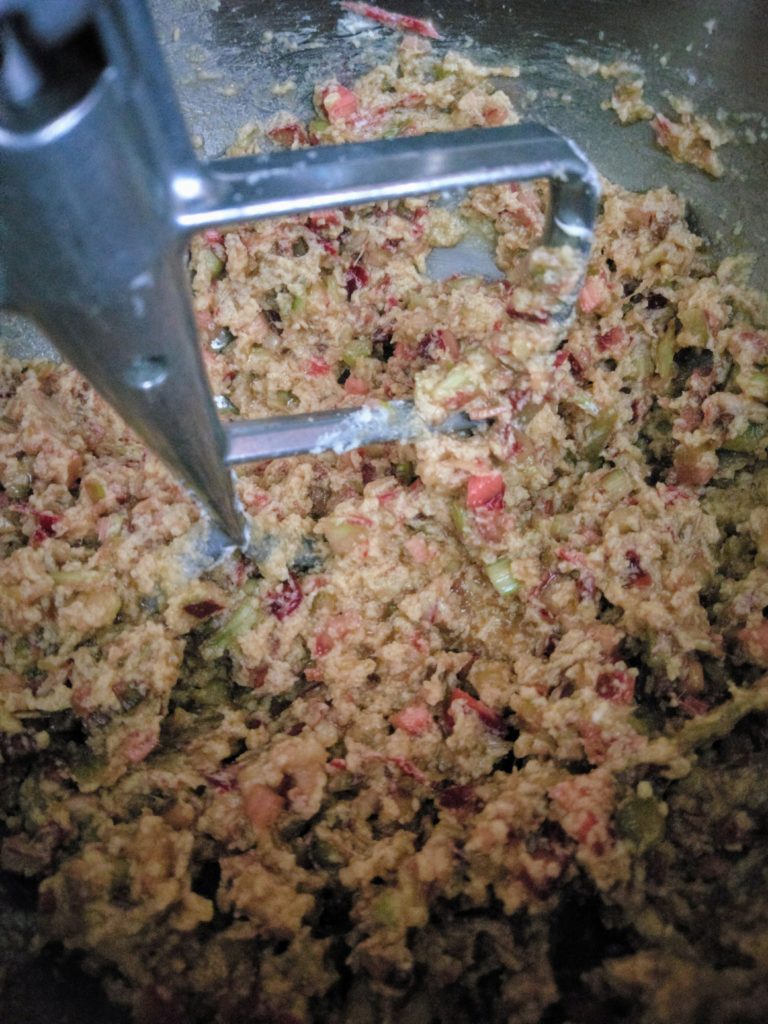 Add your Rhubarb and walnuts to the creamed mixture. Mix until evenly combined.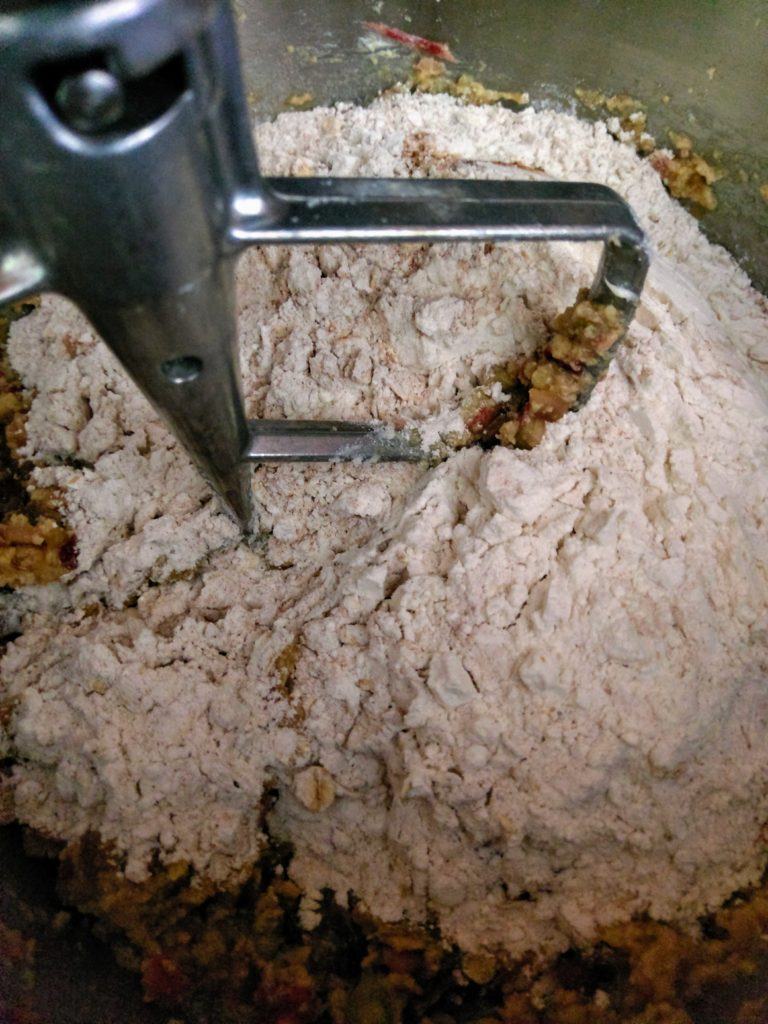 Add the dry ingredients and combine.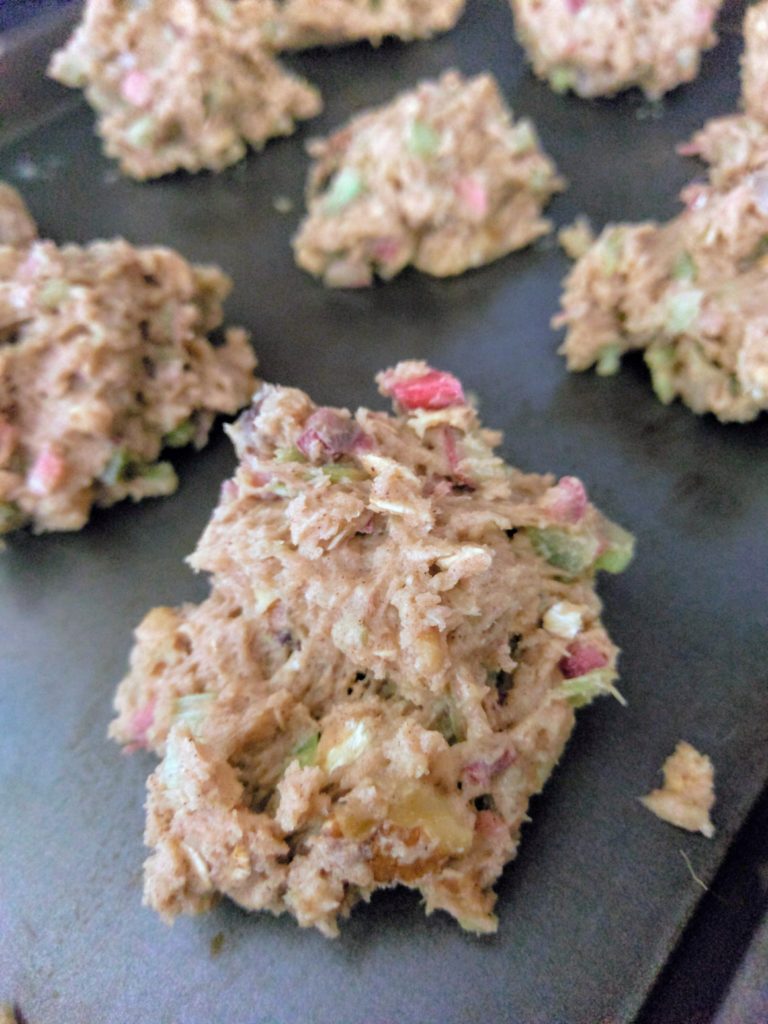 Look at that red color! Drop the cookies onto a cookie sheet and bake for 13-15 minutes. You want to make sure that these cookies are baked all the way as these have that "muffin-like" texture, and if they are not baked all the way… it does not taste the greatest. Trust me… make sure these are baked all the way.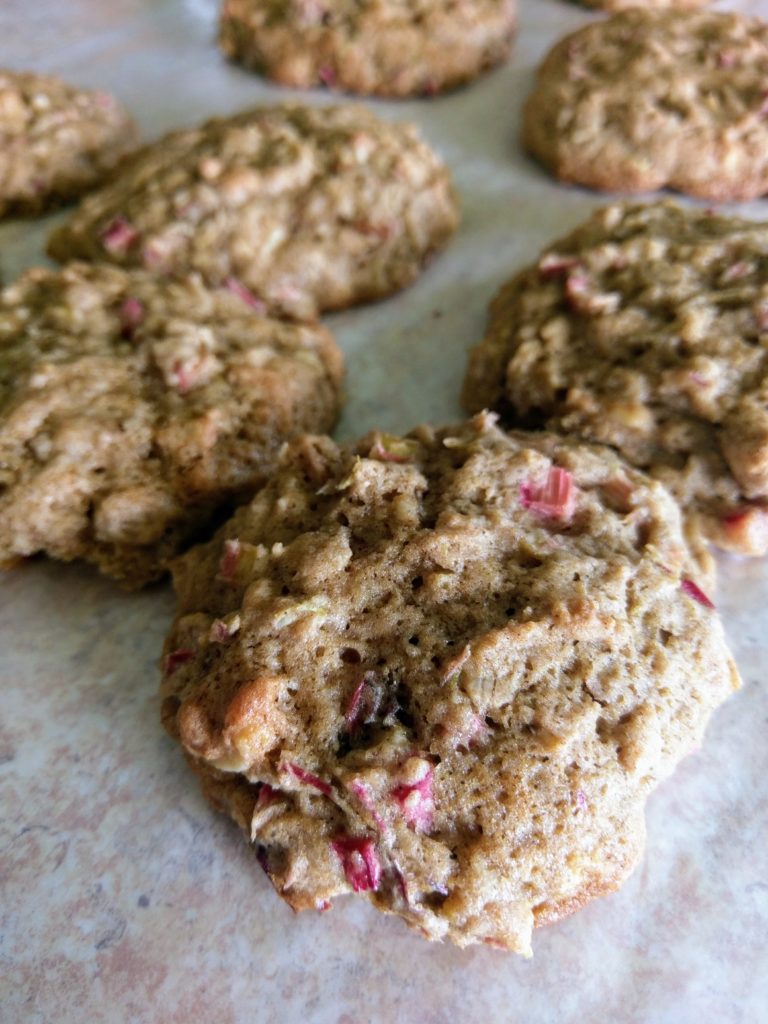 Since these are pretty much muffins…. eat these for breakfast! Perfect for on the go and for when you want to feel like you are overindulging.  🙂
One thing that I noticed, is that it is hard to store these in a Ziploc bag.  Try to store these bad boys in a plastic container. They store fine in a Ziploc, but they start to stick together, which is a good/bad thing. Good because if you grab a cookie and it's actually 2 cookies, it counts as 1. The bad thing is if people are around and do not under stand the "counts as 1" rule.

Rhubarb Breakfast Cookies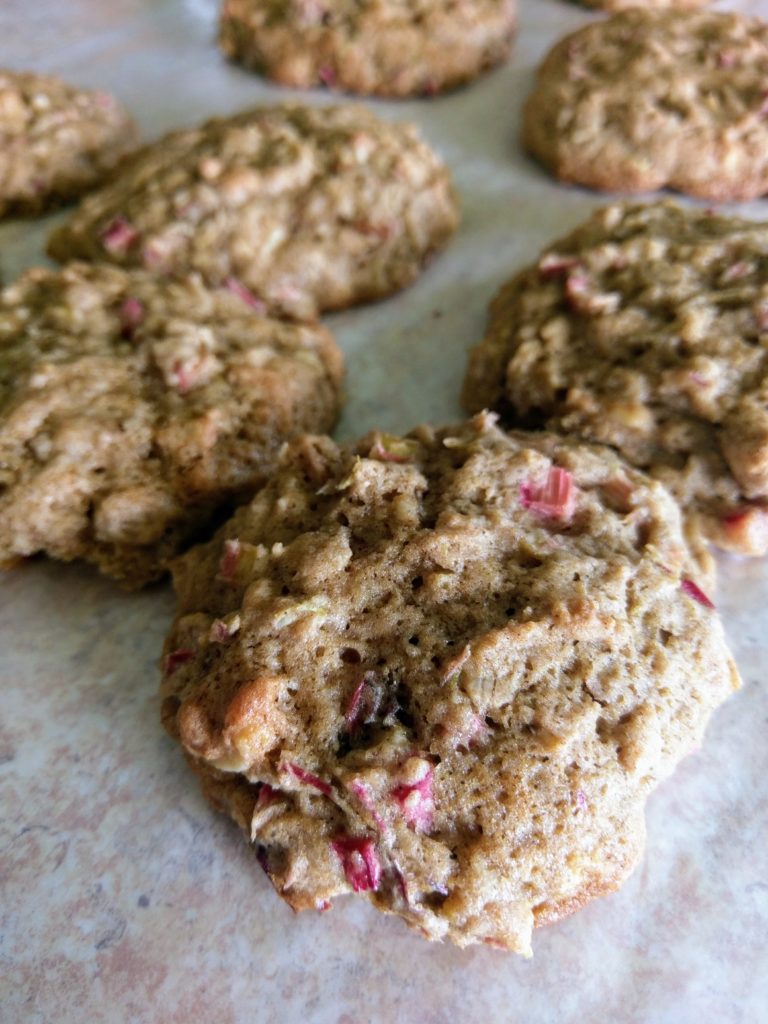 A wonderfully semi-tart cookie that is hard to eat just one in the morning
Ingredients
Dry Ingredients
3 cups Flour
1 cup Old Fashioned Oats
2 teaspoons Baking Soda
2 teaspoons Baking Powder
2 teaspoons Cinnamon
½ teaspoon Ground Cloves
½ teaspoon Ground Allspice
1 teaspoon Salt
Wet Ingredients
2 sticks ( 1 cup) Unsalted Butter
1 cup Sugar
1 cup Brown Sugar
2 Eggs
2 teaspoons Pure Vanilla Extract
Add-ins
1 cup chopped Walnuts
2 cups chopped Rhubarb*
2 cups shredded Rhubarb*
(at least 6 stalks give or take 2)
Instructions
Combine and stir the dry ingredients into a medium size bowl.
Cream the butter with the sugars until light and fluffy.
Add your eggs and vanilla to your creamed mixture until completely combined.
Add both the chopped and shredded * rhubarb and stir.
After the rhubarb is well incorporated, add dry ingredients until just combined.
Fold in the chopped walnuts.
Preheat the oven to 375 degrees.
Drop cookies onto a cookie sheet, and bake for 13-15 minutes.
Make sure the cookies are completely done, as this is the type of cookie that should not be "raw" as it will not store or taste properly.
Notes
*Note: When you chop your rhubarb, if you are not use to the tart taste, chopped the rhubarb into tiny pieces as shown. If you want, you can shred all the rhubarb in the food processor like the other 2 cups; whichever suits your family's taste buds.
Recipe adapts from
Allrecipes
.