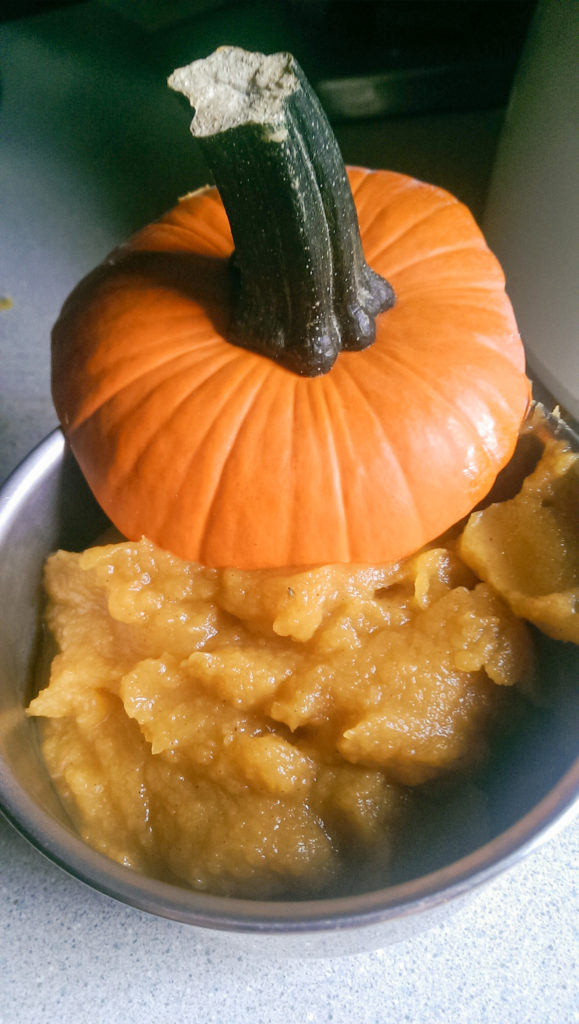 Seriously…. FALL
This is my jam… the reason for the season… I wait all year for fall and when it gets here, it comes and goes too quickly. Let's just slow down… take a brisk walk in the Michigan crisp air.
Lately, my daughter and I have been talking walks and looking for the "crunchy" leaves. It's such a great sound to hear under your feet. Music to my ears. The sound, the smell of leaves is seriously the best.
Back in the day, I use to buy canned pumpkin until I learned how EASY it is to make your own pumpkin puree. You have to use the smaller pumpkins because… obviously, small and sweet.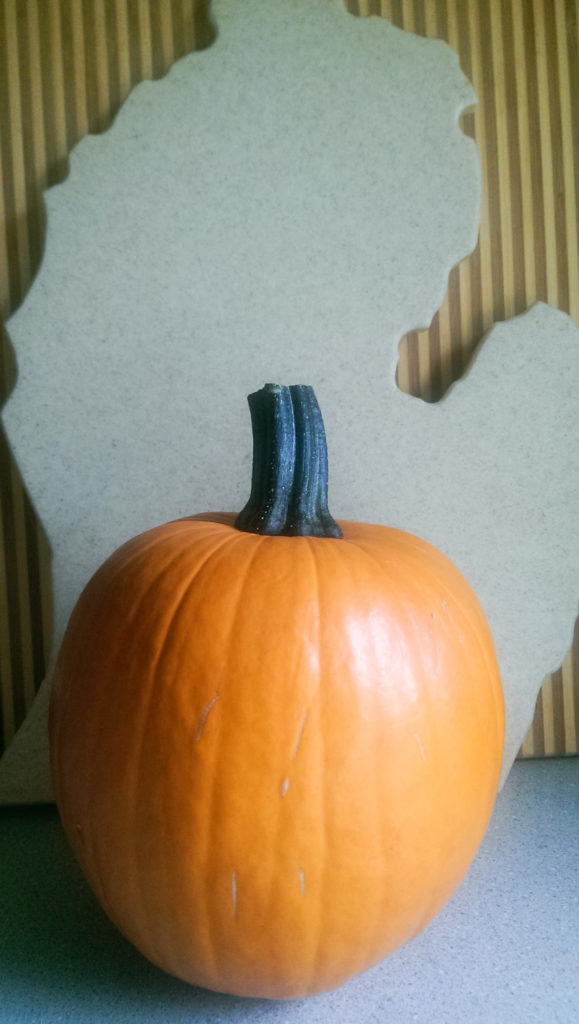 Michigan Ingredient: Pumpkin
Seriously look at that beauty. The color… it just.. pops! There was a sticker that said Michigan on it, but my sweet little girl took it and was running around with it on her chest like a name tag.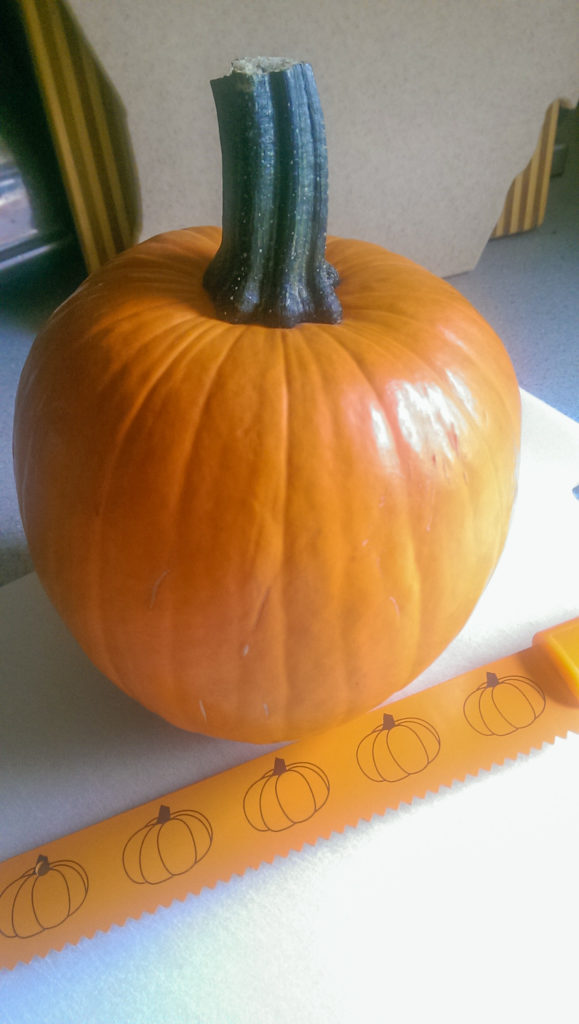 I would recommend using a saw to cut your pumpkin in half. This is one of the many knifes that we use when we carve pumpkins.  You can use a normal knife if you would like, but it will not be as fun as using a saw (and obviously more difficult).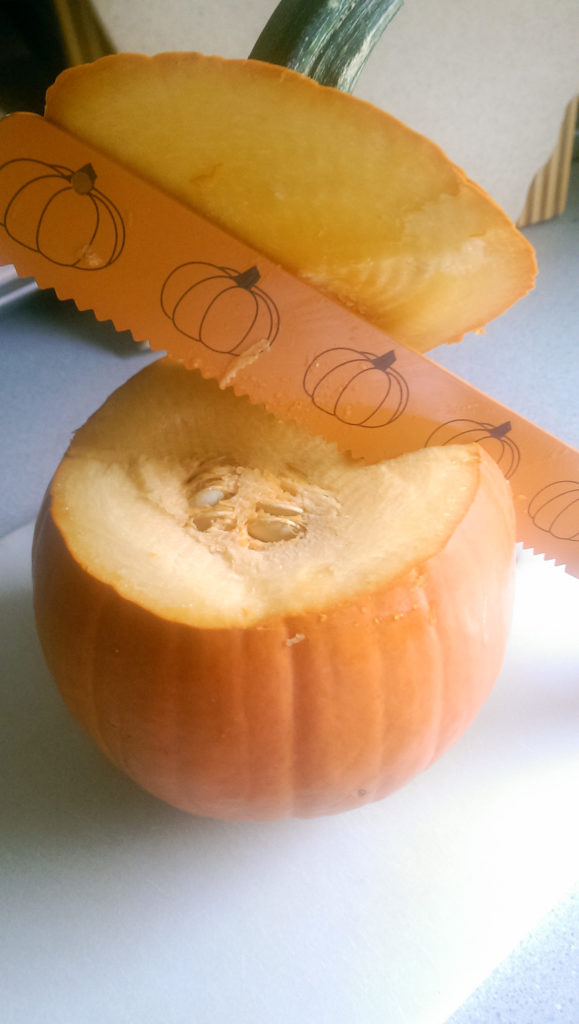 Cut the top off, but cut off as little as possible so that you have as much pumpkin to "roast" as possible.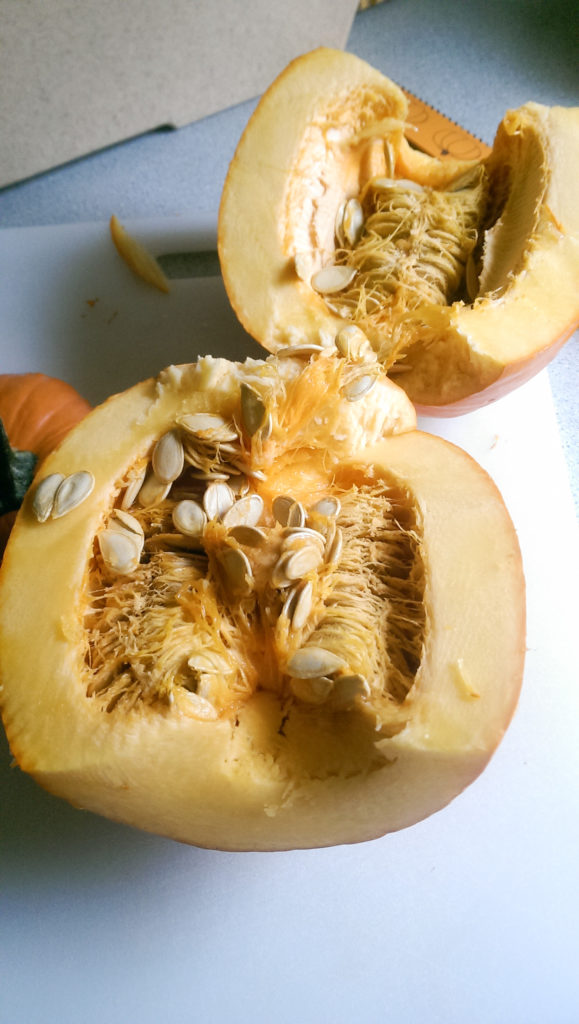 Cut the pumpkin in half and look at the glory of …. the guts.. there's no other words I can think of then "guts" so… start to scoop those out and try to make it so there is not many strings left. If you want, you can save the seeds and give yourself a preview of carving big pumpkins with the kiddies (or you know when you carve pumpkins).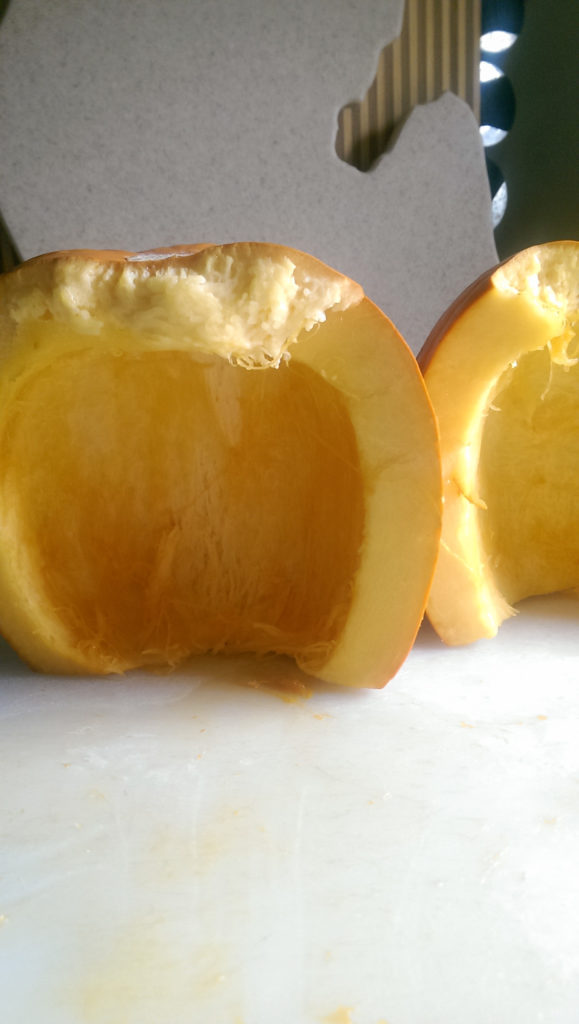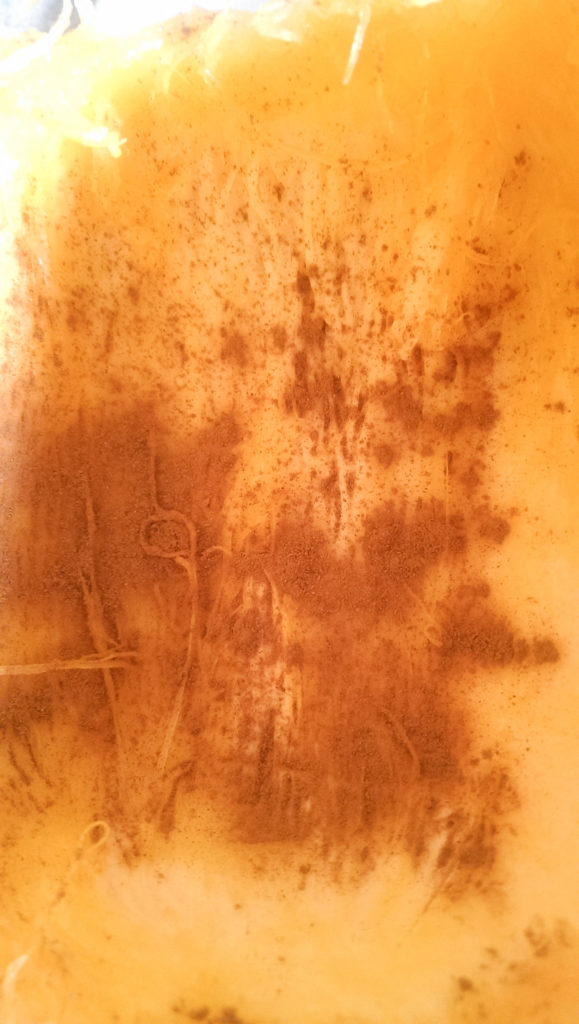 I like to sprinkle cinnamon on my pumpkin. You can make it all natur'elle. But come on, you're just going to add cinnamon to whatever recipe you are going to use the pumpkin in… well maybe not soup… I've never made soup. Maybe something to try?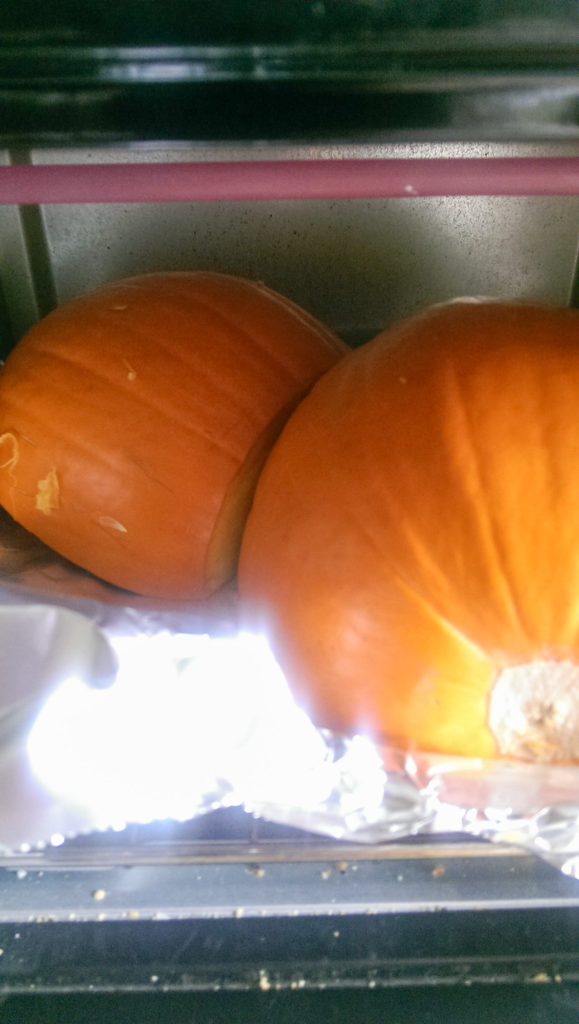 Place the pumpkin flesh side down on a tin foil lined pan (sprayed with non-stick of course).
I used my toaster oven to roast the pumpkin. I had the heat set to 350 degrees.  I love using my toaster oven if I am able to when it takes more than a half hour to cook something. Save that propane people! And when you have an Indian summer, you still have the mentality of  not heating up your kitchen!
Obviously, sizes of pumpkins vary, so times will vary. I would recommend starting at 45 minutes. To test if the pumpkin is done, take a fork and see if you can pierce the flesh; if it pierces easy, it's done. If not, try again in 10 minutes.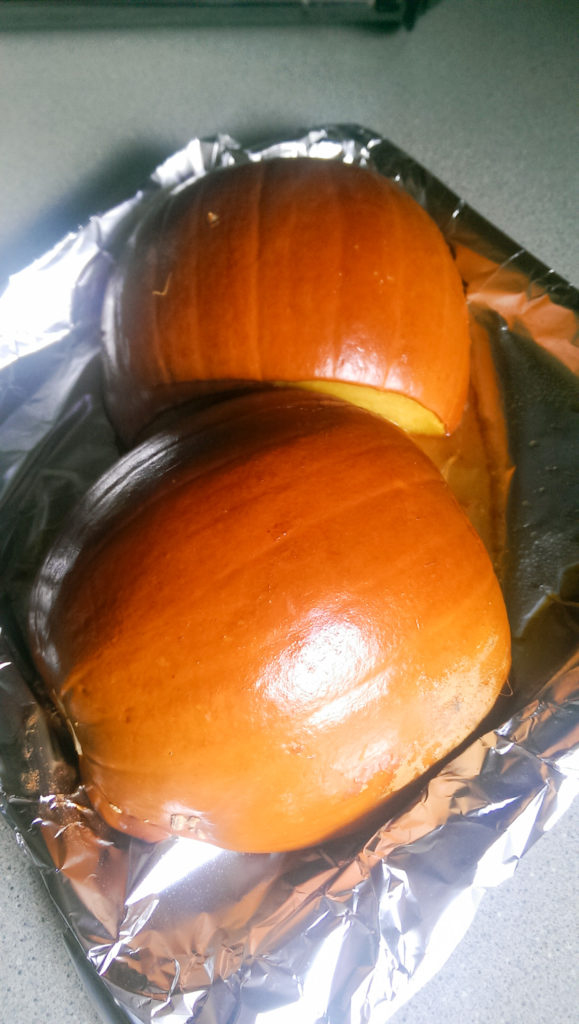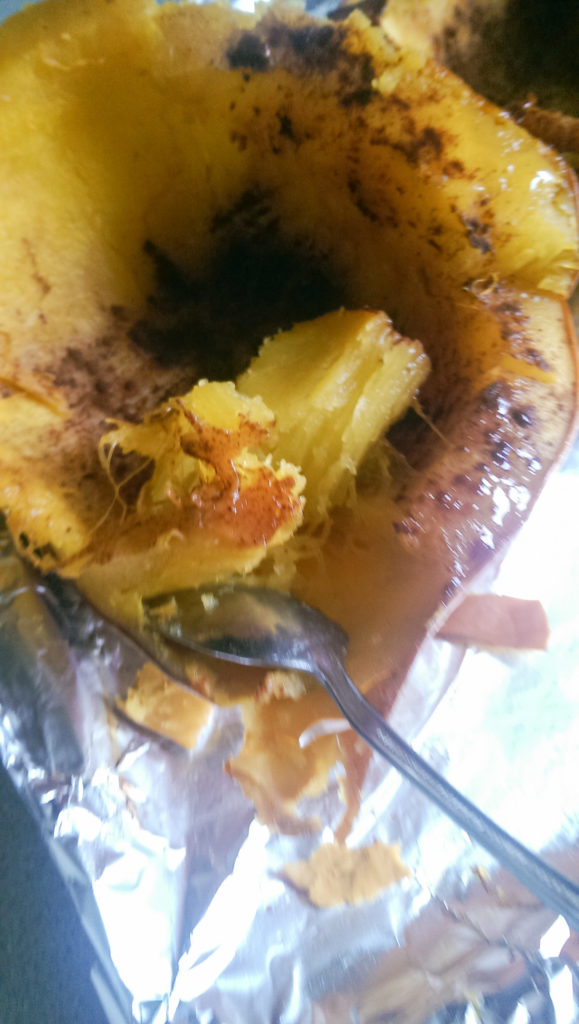 Let the pumpkin cool a little bit so you don't completely burn your fingers. Use a spoon and scoop the flesh of the pumpkin out. Scrap every little bit you can so that you can get as much flesh to puree.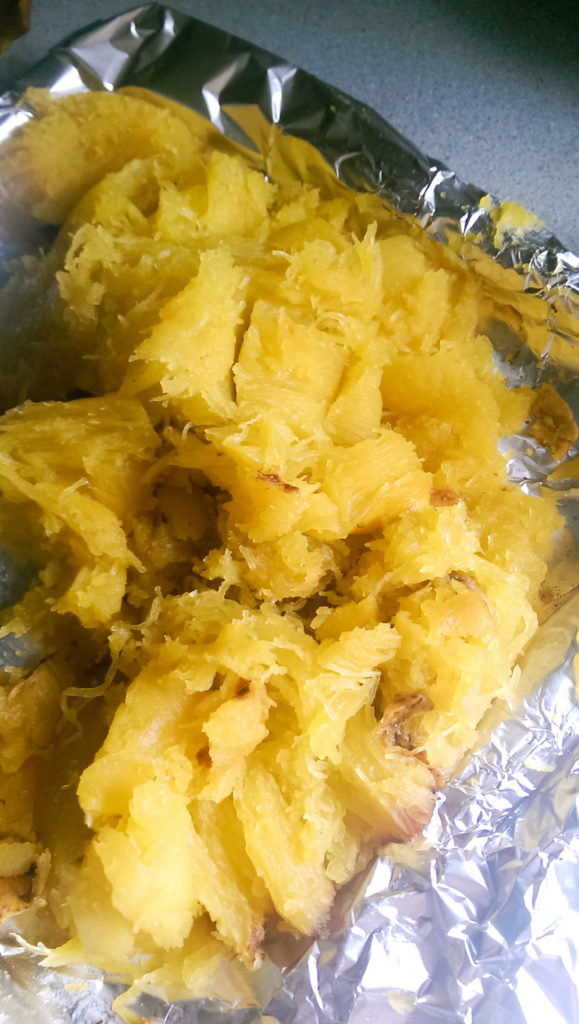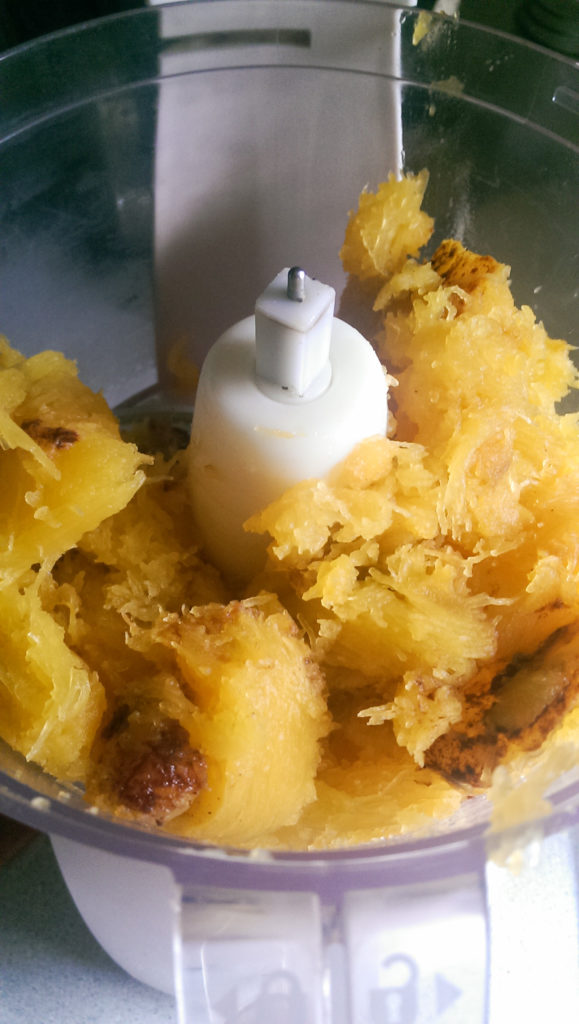 You can either mash the pumpkin by hand in a bowl, or you can use your food processor to make it extra smooth; you know, lady's (or dude's) choice.  Either way, there is no need to add liquid. Why water down a good thing?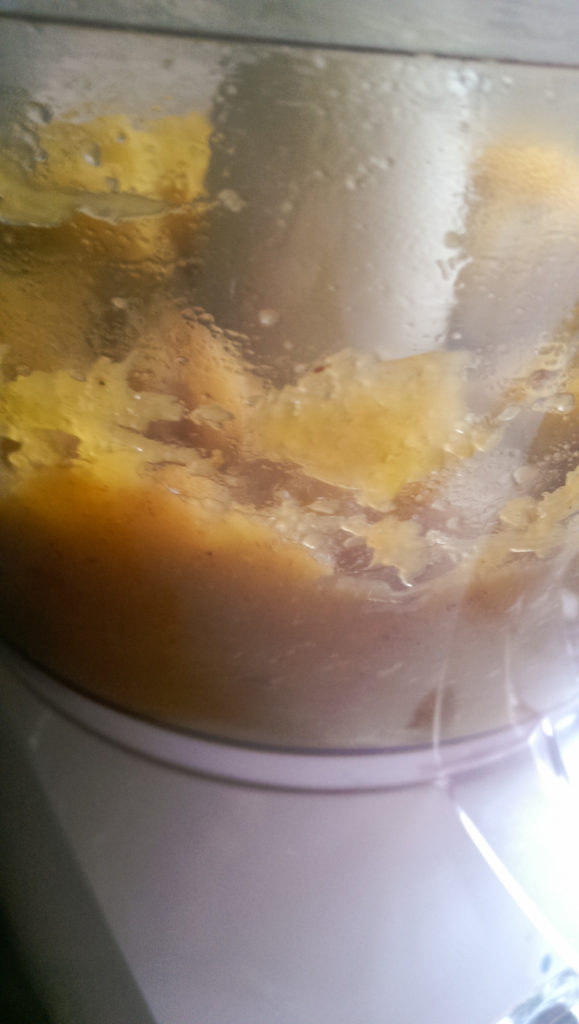 Oh my yum!! Use the puree in your favorite pumpkin recipe (which one will be here tomorrow).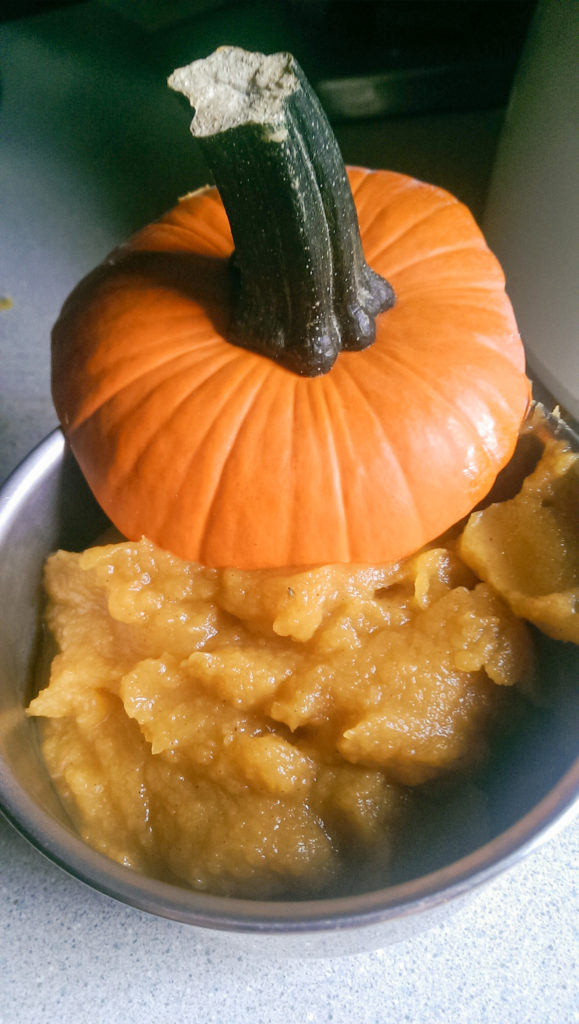 Once you start making your pumpkin from scratch, you will never want to use canned pumpkin again. So simple… ANNNNND you know it's actual pumpkin. I just read that canned pumpkin isn't even really pumpkin…. HEELLLLOOOO!! Really!? They use squash, which is a great substitute. But why call it pumpkin, when it is either butternut squash, acorn squash, etc. False advertisement and lies ladies and gentleman.
Which brings me to the best point… making things from scratch, you know what is in the food you are making. Love and (in this case) pumpkin!

Homemade Fresh Pumpkin
Easy homemade fresh pumpkin
Ingredients
Small Pie Pumpkin
Cinnamon (optional)
Instructions
Cut the top of the pumpkin, making sure to cut as little off the top as possible.
Cut the pumpkin in half and scoop the "guts" out until there are no strings.
If you want, you can sprinkle a little bit of cinnamon on your pumpkin.
Place the pumpkin flesh side down on a tin foil lined pan (sprayed with non-stick spray) and roast in a 350 degree oven for 45 minutes.
To test if the pumpkin is done, take a fork a try to pierce the flesh. If it pierces easily, it's done. If not, check on the pumpkin again in 10 minutes.
Let the pumpkin cool so you don't burn your fingers. Once it's cooled enough to handle, use a spoon to scoop out the flesh.
You can either mash the pumpkin by hand or place the pumpkin in a food processor to get a smoother consistency.
Use the pumpkin puree in your favorite pumpkin recipe in place of "canned pumpkin". Store any unused pumpkin until ready to use.