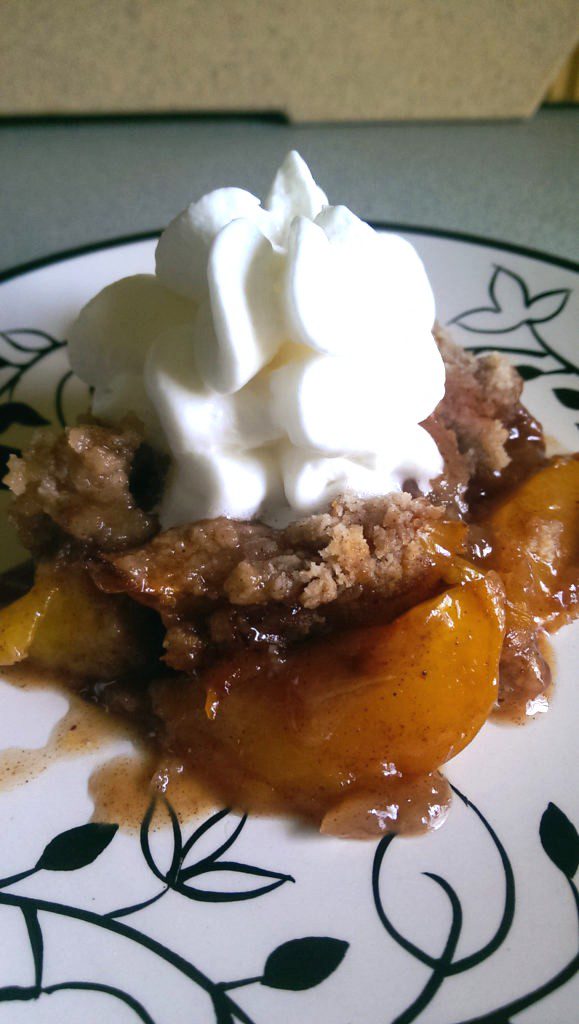 Peaches are the perfect end of summer fruit that helps glide you into pears and apples. I learned at a young age that peaches from a farm stand are always better than peaches from the grocery store (as the farm stand is usually Michigan peaches). One of the many beauties  of living in Michigan:  there are usually farm stands everywhere you go.
As I have aged, I've learned the value of eating veggies and fruit when they are in season so that you can buy local and the flavor is soooooooooooooo much better.
When it comes to peaches, I prefer to have the fresh ones if I am eating them straight (…. as a snack….). One of my favorite ways to use peaches is by making a baked good or dessert.
When I first made this cobbler, it was more of an experiment
I love the Slow Cooker Bible,  as I frequently use my crock-pot at least once a week.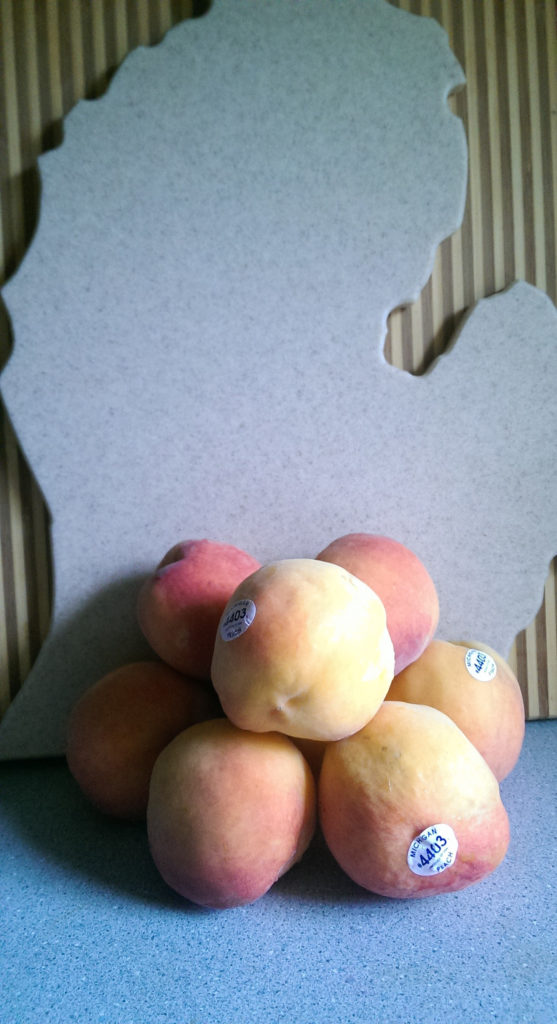 Michigan Ingredient: Peaches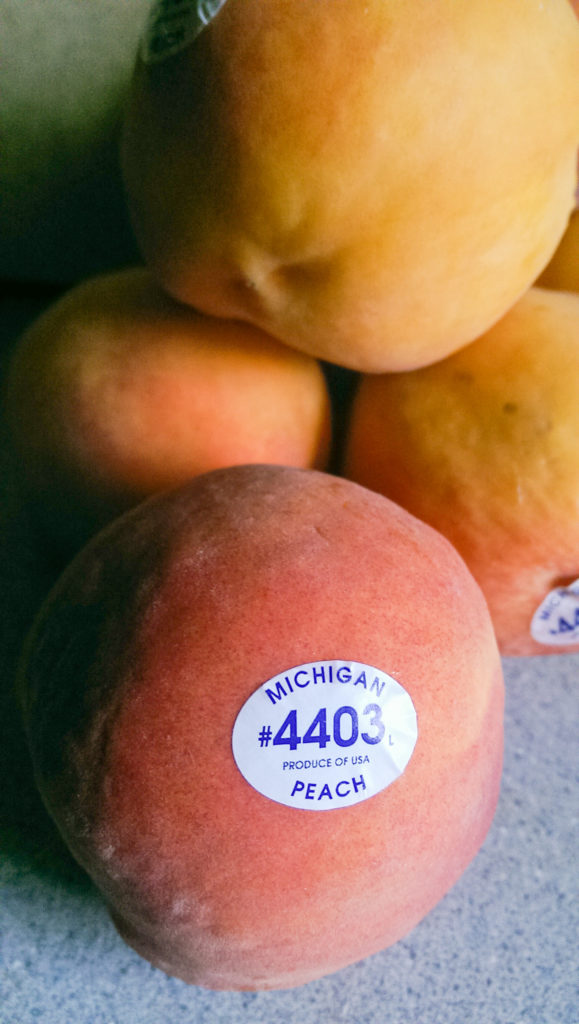 Further proof…. I just love.. love love love.. seeing the sticker say Michigan. It's on a sticker, it's gotta be true.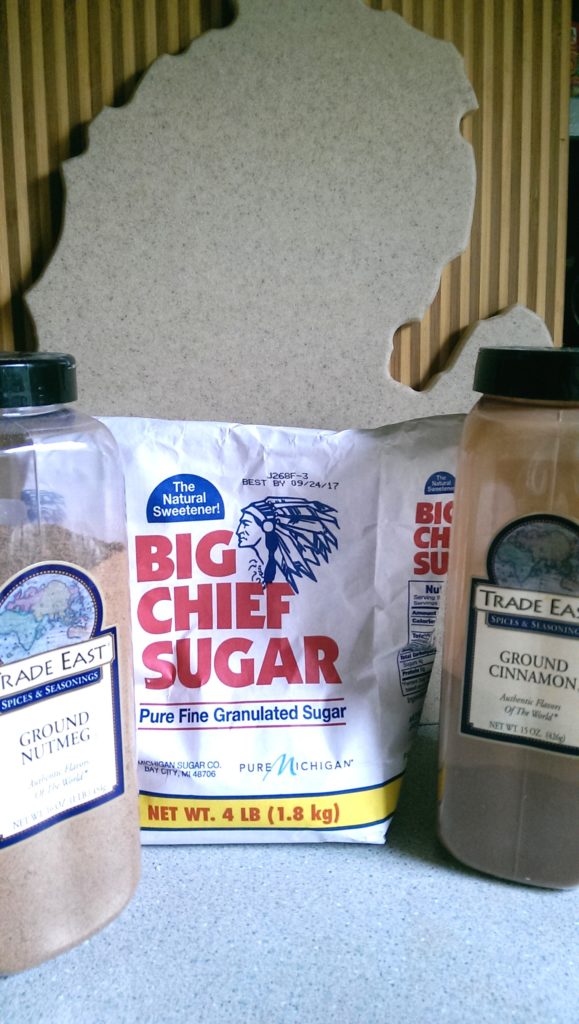 Michigan Ingredients 2.0: Nutmeg, Cinnamon, Sugar
If I had Meijer Butter and Meijer Flour, this would be a completely Michigan recipe…. in due time this will occur 🙂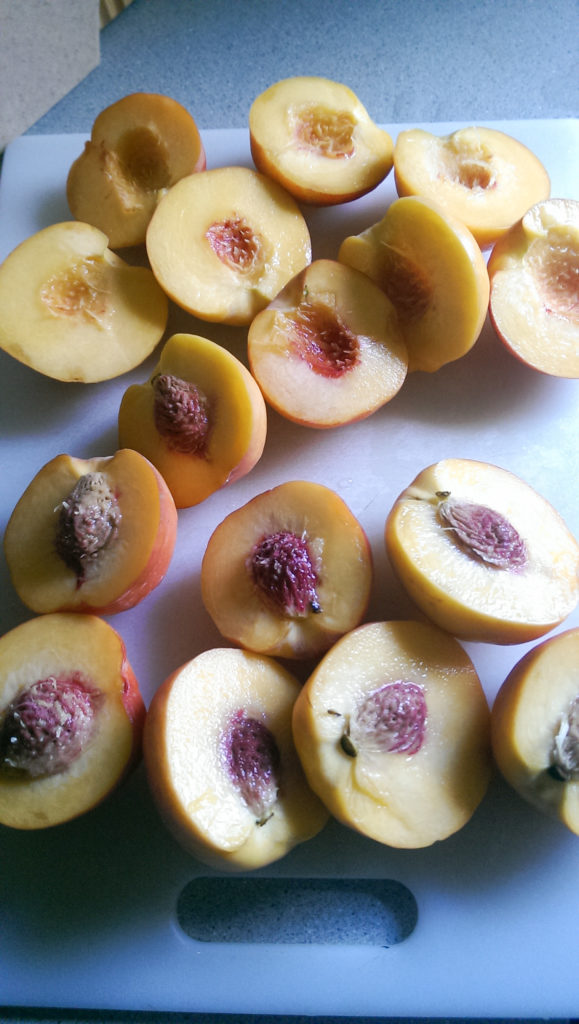 First things first, slice those peaches in half so that you can get the stone out. Yes, I call it a stone, others may call it the pit. I call it a stone because peaches are a… stone fruit. Please note that I did not take the skin off because everyone also says that the peel has so many nutrients… yada yada yada… so I kept the peel on. You can take the peel off if you prefer.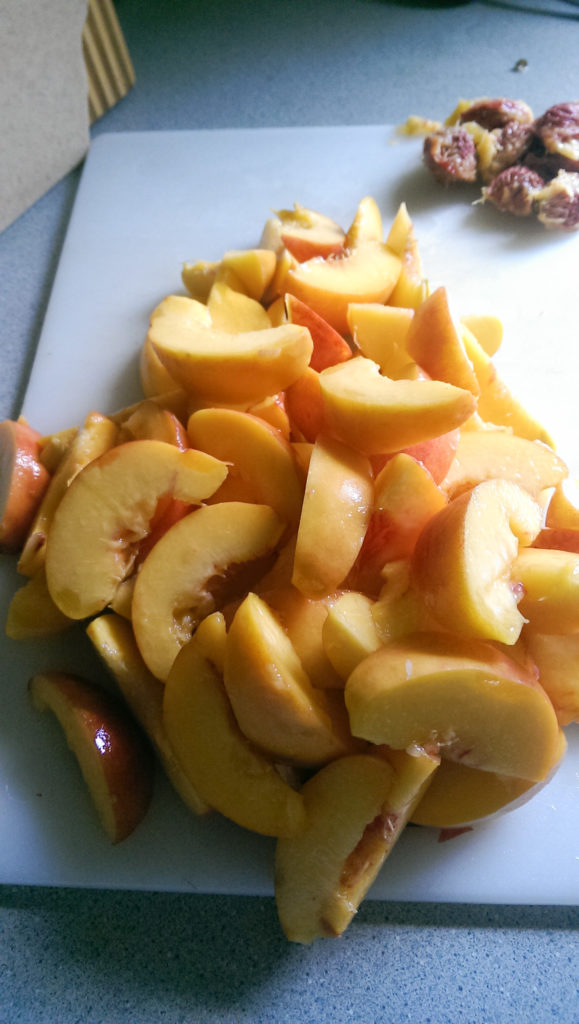 Slice the peaches into quarters/eighths depending on how large the peach is.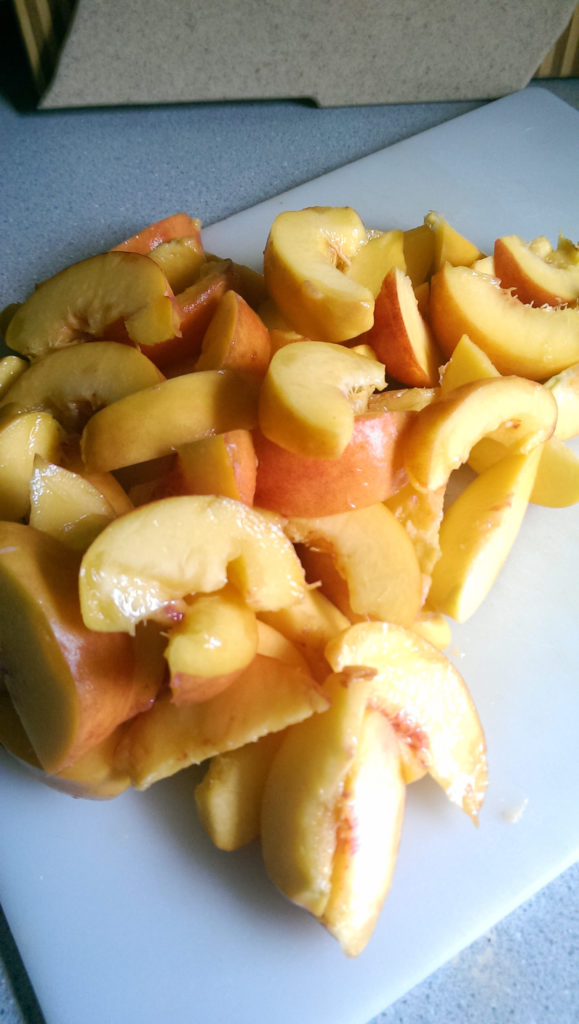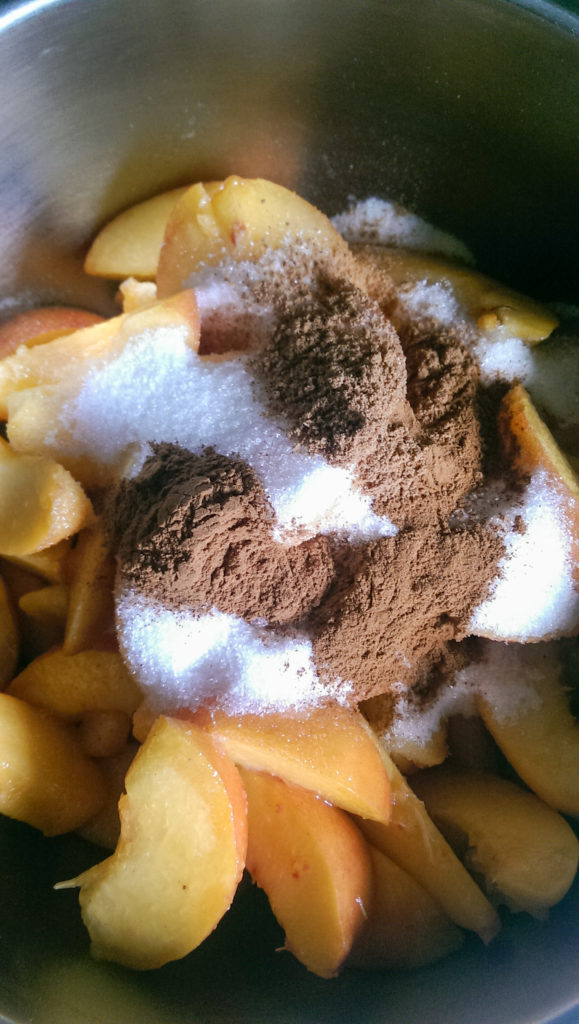 Place the peaches into a bowl and add 3/4 cups of sugar, 1 1/2 teaspoons of cinnamon, and 1/2 teaspoon of nutmeg.  I know that you could combine the peaches, sugar, and spices in the slow cooker and save yourself some dishes (and believe me, I  love saving myself some dishes); but I have noticed that when I do that, the insert of the  slow cooker is harder to clean.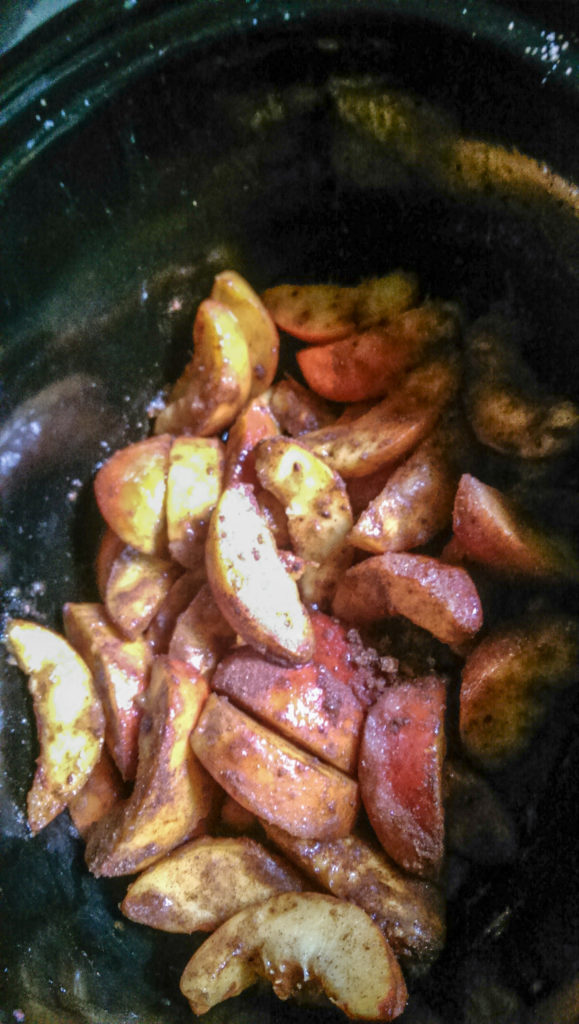 Give it a stir and try not to devour the peaches at this point. It is amazing. This is one of the things I love about making any type of pie.. cobbler… etc.. the "filling" always tastes amazing.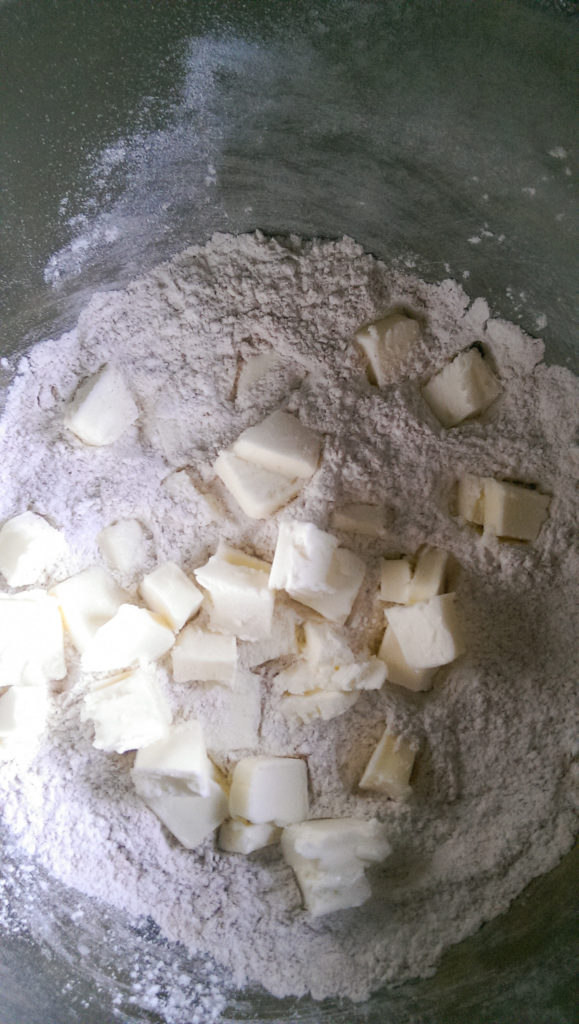 In a separate bowl, combine flour, 1 tablespoon of sugar and the remaining 1/2 teaspoon of cinnamon. Add diced cold butter.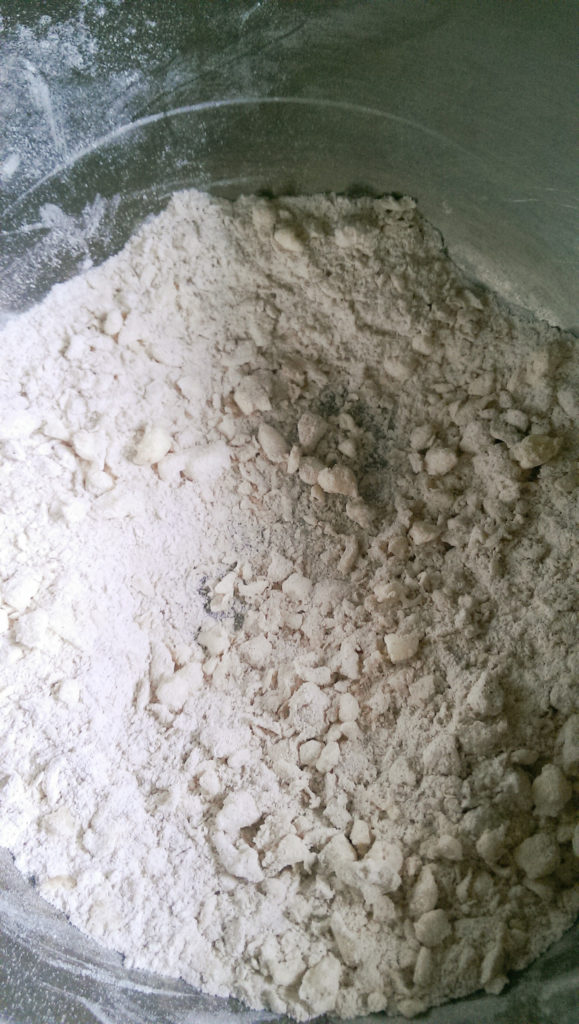 Use your pastry cutter or the two fork method and "cut" the butter into the flour mixture until it resembles pea sized crumbs.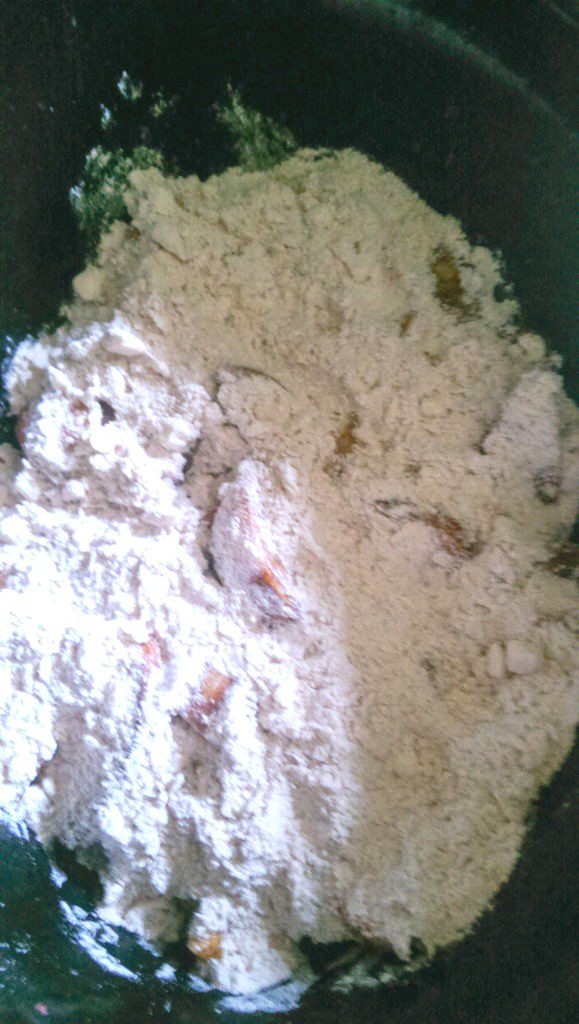 Pour over peaches and cover and cook on high for 2 hours.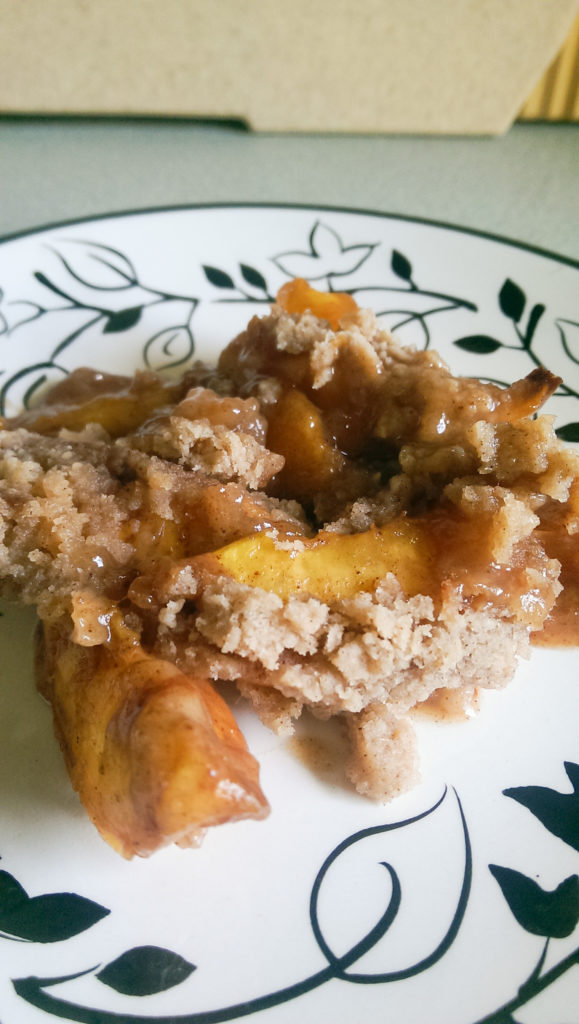 It can't get any better than this. …oh wait… yes it can…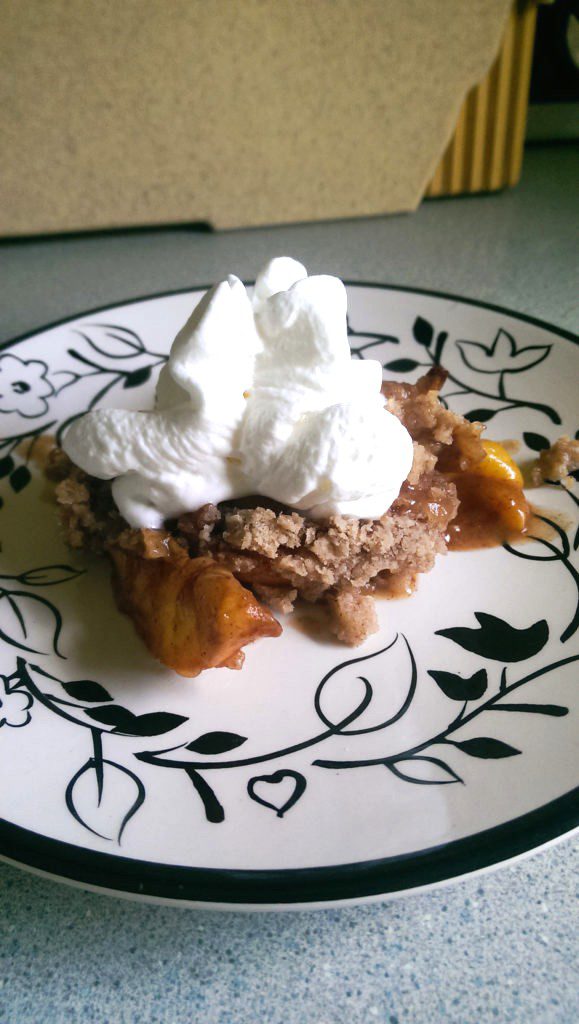 Serve warm with ice cream or cool whip.
This is a perfect dessert to whip up if you need a dessert in a rush (i.e. people stop by… you want to be fancy… or have a mega sweet tooth).  I have made this recipe with canned peaches before, of which it tastes just as amazing.  This recipe can easily feed a family of 4; but if you know you are going to have left overs, you might want to take the peels off. I reheated the cobbler like I have done in the past with canned peaches and it's amazing; not so much with the peels on. If the peels weren't on, the fresh would taste just as amazing.
Peach Cobbler (Crock-pot)
A great transition dessert from summer to fall with one of the best late summer fruits!
Ingredients
32 oz (2 pounds) of Fresh Peaches or 2 cans of sliced peaches
¾ cup Sugar
1½ teaspoons Cinnamon
½ teaspoon Nutmeg
Cobbler
¾ cup Flour
1 tablespoon Sugar
½ teaspoon Cinnamon
6 tablespoons cold butter, diced
Instructions
Start by slicing your peaches in half to remove the "stone" (pit). Then slice each peach in quarters (or eighths) depending on the size of the peach.
Place your peaches in a bowl and add 1½ teaspoons of cinnamon, ½ teaspoon nutmeg, and ¾ cups of sugar. Stir to combine. Pour your peaches into your slow cooker.
In a separate bowl, combine flour, 1 tablespoon of sugar, and remaining ½ teaspoon of cinnamon. Stir to combine.
Use your pastry cutter or the two fork method and "cut" the butter into the flour mixture until it resembles pea sized crumbs.
Sprinkle evenly over peaches in the crock pot.
Cover and cook on HIGH for 2 hours. Serve warm with cool whip or ice cream.
Notes
Note: If you know you are going to have leftovers, I would recommend take the peels off so that you can reheat the cobbler.
Recipe adapted from
Slow Cooker Bible